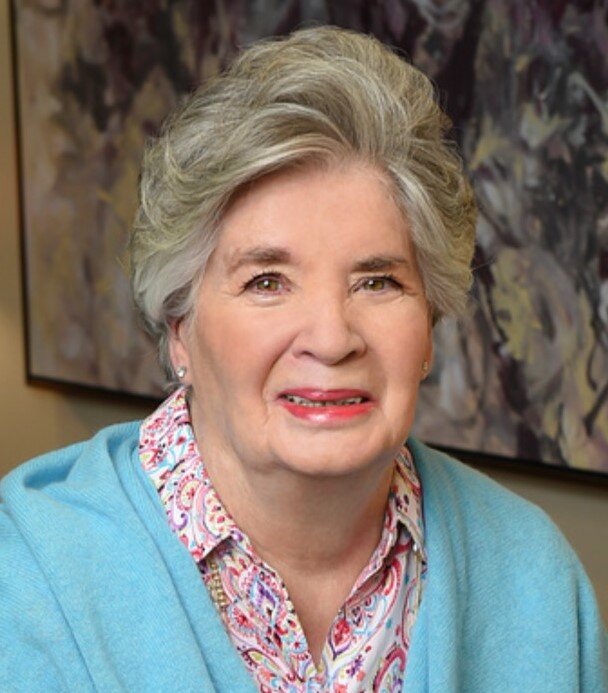 Obituary of Dolores Farrell
Dolores V. Farrell died peacefully July 27, 2023 in her home in Dallas, Texas surrounded by her family.

Born in Brooklyn, New York on October 2, 1935, she was the youngest of Mary and George Dunworth's three children. They, along with her brother and sister (twins, George and Mary O'Malley) predeceased her.

Dolores may have been short in stature – but her heart was enormous. She was often quiet, but her graceful, compassionate air drew others to her like a magnet. She was a fantastic listener; with the touch of her well-manicured, soft-as-silk hand, she could make any person feel loved. Her commitment to retaining her gentleness, despite the many hurdles and losses of her life, is a testament to her inner strength – and the strength of her faith. She was deeply connected to her Catholic faith and kept her rosary close for daily prayers; always with a focus on the safety and well-being of others. Dolores kept a long prayer list – which included her friends, her family, and any person who might need lifting. She lit up when any person asked to be added to her list; but the truth is, thanks to her meticulous nature, they were probably already on there. Her green eyes saw everything… but she always looked for the best in others. Her gratitude for her life and the enduring love that defined it, is an inspiration to all who met her. Dolores had a cheeky sense of humor, and an endearing giggle – both of which caught many by surprise.
Dolores had delicate features and high cheekbones. In 1954, on one of her first days as a secretary in Manhattan, her beauty and kindness caught the eye of Michael J Farrell. He bought her a sandwich from the office lunch cart, and promptly fell in love. For the next 65 years of marriage, they would share the same birthday, their six beloved children, and matching Lay-z-Boy recliners. She and Michael raised their children in Peapack-Gladstone, New Jersey – in a converted dairy barn. Dolores thoroughly enjoyed the pool Michael put in the backyard… although, none of her children ever witnessed her going down the slide. In 2005, Michael and Dolores retired to Sarasota, Florida, where they sipped Arizona iced tea and listened to Bing Crosby in the sunshine. They were known for their duet phone calls, during which Dolores' steel trap memory came in handy: while sharing the line, she would remind Michael of even the smallest details relevant to the conversation. Dolores took pride in keeping her hair styled – and her kitchen tidy. Her family will remember her adoration for efficiency every time they see a paper plate.
After Michael died in 2019, Dolores bravely moved to Dallas, Texas; living on her own for the first time in her life. She threw herself into her community at The Preston of the Park Cities, where she was a friend to all. She especially treasured gathering for meals with her closest friends. She soon became known for her ability to retain the names and details of anyone she met, even in passing. Her friendships at The Preston re-invigorated her in the wake of losing her husband and brought her enormous joy in her final years. Dolores was an avid letter-writer. She never missed a birthday and was always able to keep track of all twelve of her grandchildren's oft-changing addresses. She kept up on all correspondence, in her delicate script, until her final days.

Dolores is survived by her daughters Nancy, Kathleen, and Maureen, as well as her son James, her twelve grandchildren, two great-grandchildren, daughter-in-laws Maryanne Sullivan Farrell, Karin Helland Farrell, and son-in-law Robert Platzer . She was predeceased by her two sons Michael and John; but they were never far from her thoughts. She loved all unconditionally and without pretense.

There will be graveside ceremony in New Jersey, date to be announced.

Donations in Dolores's memory may be sent to HEARTWORKS, 19 Route 202, Basking Ridge, New Jersey 07920. The foundation was created in memory of Dolores and Michael's son John William Farrell. "Heartworks is local movement of Women committed to replicating and sustaining the kindness and connection witnessed in the wake of September 11, 2001. Inspired by the healing that takes place through receiving and giving we offer hope to people experiencing a chronic illness, with an acute need, an unexpected injury, a natural disaster, or unbearable grief , while taking part in our own self growth."
Share Your Memory of
Dolores
Our Locations:

Mendham Location:
8 Hilltop Road
Mendham, NJ 07945
973-543-4720
Peapack Location:
176 Main Street
Peapack NJ 07977
908-234-0590
For GPS Purposes use Gladstone, NJ 07934

Peapack Location: For GPS Purposes Use Gladstone, 07934