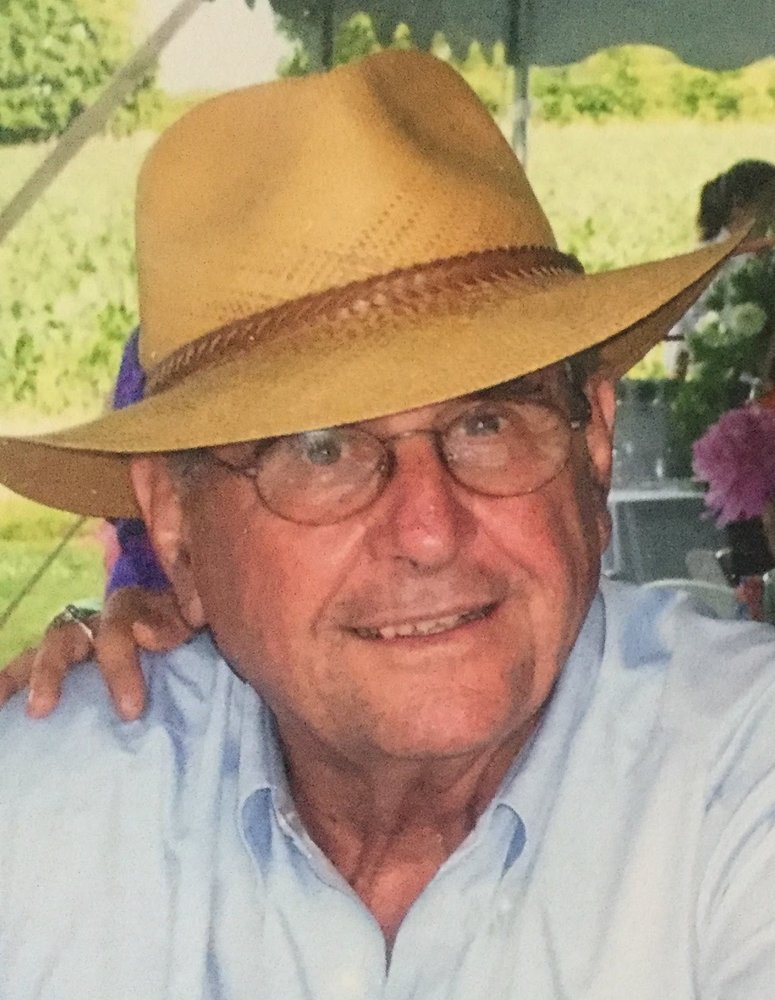 Obituary of Carl J. Torsilieri
Carl Joseph Torsilieri passed away peacefully on February 17
th at the age of 93. Carl was born on February 4, 1928 in Stirling, NJ in the house
built by his brick mason father. "Sonny" was the only child of Joseph A Torsilieri and Florence L (Montegari) Torsilieri.
Married to Lois J (Mindnich) Torsilieri for 56 years, they were high
school sweethearts at Bernards High School in Bernardsville, NJ where
Carl was voted best looking and "Lo" best dressed and best dancer.
Together they had four children: Carla Parkinson (David), Guy
(Beverly), Marc (Susan) and Dean (Christine). There are thirteen
grandchildren: Jacie and Bart (Carla), George and Carl (Guy), Sam, Liza
and Phoebe (Marc), August, Geneva, Piper, Holly, Willow and Remy
(Dean). Carl was preceded in death by his son Marc in 2007 and his wife
Lois in 2009.
Carl served in the US Navy as a Petty Officer between WWII and the
Korean War from 1946 to 1948 on a Liberty Ship. He spent some off
hours crafting items like candle holders and lamps out of spent bullet
casings, now family heirlooms.
As a young man Carl cultivated and sold dahlias from a greenhouse on
the site that is now the Stirling, NJ ShopRite. Before venturing out on
his own, he was a partner in Millington Nurseries in Millington, NJ.
In 1968, Carl started Torsilieri, Inc, a landscape contracting firm, out of
his home on Douglas Road in Far Hills, NJ. Later the company moved
to the property which is now the current location of Torsilieri Inc. at 265
Main Street in Gladstone, NJ.
All three of his sons, Guy, Marc & Dean eventually helped him grow the
business into a large multifaceted company. Torsilieri, Inc is well known
for cutting down, bringing in, setting up and taking down the
Rockefeller Center Christmas Tree; a very specialized job that they have
done for 38 years. In recent years the company has also gained a
reputation for moving and erecting large fine art pieces in New York
City and other locales. Today the Torsilieri Inc signature white trucks
can be seen throughout New Jersey, New York and the tri state area.
Carl drove to the office each day even after he "retired" until he turned
90. He enjoyed picking up lunch and sharing it with his sons.
After serving on the Board of Education and Town Council, Carl served
as Mayor of the Borough of Far Hills for four terms, from 1995 until
2010. Keeping it in the family, when he ran for office in 1994 his
daughter, Carla, was his campaign manager. While he was on the Board
of Education he was instrumental in closing the small elementary school
in Far Hills and merging the students into the Bedminster school system.
He was widely respected for his fairness and clear thinking. As a friend
and former mayor of a neighboring town said of Carl, "He epitomized
the friendly outlook of a responsible elected official". Carl was a
resident of Far Hills for 62 years.
An avid horse racing enthusiast, Carl and his partner, Orlando Di Rienzo
(Dee), owned many winning thoroughbreds starting in the 1970's. In
the1990's they were joined in the partnership by Carl's son, Guy. They
raced under the stable name Coppertree Farm at many race tracks
including Belmont, Saratoga and Keeneland as well as Steeplechase
meets up and down the East Coast. Among their many impressive wins
was a spectacular hometown victory at the Far Hills Race Meeting in
2001 with Quel Senor in the Grade One Breeder's Cup Steeplechase.
Carl was a loyal New York Yankees baseball fan and rarely missed a
televised game. In the 1970's Carl was a dominant member of the
Somerset Hills bowling league. He was a formidable poker and bocce
player, usually half of the winning team of the tournament at the annual
Torsilieri Pig Roast.
Known for sporting his signature full brimmed "Akubra" hats, Carl was
friendly to everyone, told great stories and was a good listener. Well
after his retirement he was still addressed as "Mayor" by almost all who
knew him. In his later years Carl made a cherished friend in Christine
Petruzzell who accompanied him to family events and kept Carl busy
going to Cape May, out to dine, movies, and concerts.
Carl will be missed by many family members and friends who loved him
and associates who admired and respected him.
A memorial service and celebration of life will be held for Carl at a
future date to be determined.
Memorial contributions in Carl's honor can be made to the Far Hills
Race Meeting Association (P.O. Box 617, Far Hills, NJ 07931)
Donations will benefit The Steeplechase Cancer Center "Patient
Assistance Fund", Crossroads4Hope (formerly the Cancer Support
Community of Central New Jersey) and the Pluckemin Presbyterian
Church Medical Equipment Ministry.
Share Your Memory of
Carl
Our Locations:

Mendham Location:
8 Hilltop Road
Mendham, NJ 07945
973-543-4720
Peapack Location:
176 Main Street
Peapack NJ 07977
908-234-0590
For GPS Purposes use Gladstone, NJ 07934

Peapack Location: For GPS Purposes Use Gladstone, 07934