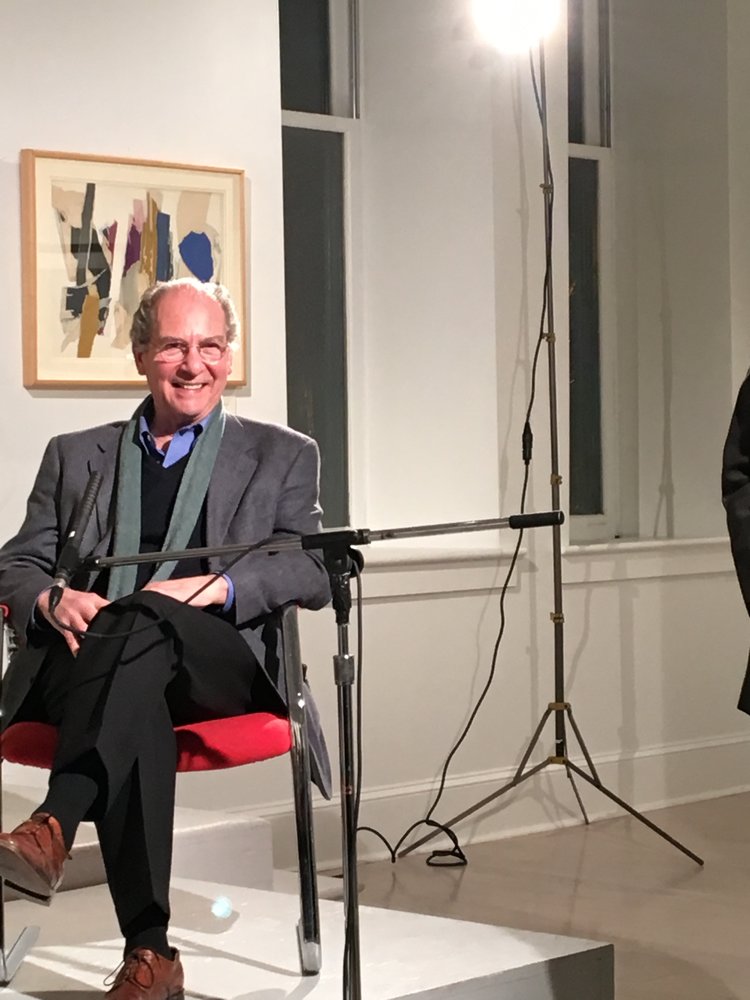 Obituary of Anthony Panzera, Jr.
With deep sadness we announce that Anthony (Bud) Panzera passed away with his family at his bedside on September 18, 2020, after a long and courageous battle with pancreatic cancer. Anthony was Professor Emeritus, Department of Art, Hunter College, City University of New York, where he taught for 46 years. He was elected to the National Academy of Design in 1995 where, in addition to acting as the Board Secretary for nearly a decade, he served on several committees to further contribute to the institution. He was also a member of The Century Association. He will be remembered as a dedicated artist, teacher, and mentor; a patient, gentle, and kind man; a wonderful storyteller; and the king of bar jokes.
Throughout his career, Anthony worked with the human figure as the center of his artistic expression. He and his family took a sabbatical to Florence, Italy in 1975-76, where he engaged in independent study focused on Renaissance Master drawings. This experience inspired him to pursue a decades-long investigation of the human form. While primarily a figurative painter, in 1977, Anthony discovered Nantucket. He was captivated by the island's serene simplicity and began painting, en plein air, its seascapes, landscapes, and vistas.
Anthony's oeuvre also consists of series of nudes, portraits, and still lives. They range from The Leonardo Series, 65 drawings depicting the proportional studies of Leonardo da Vinci, to life-size figure scroll drawings, to paintings of scenes from the life of Victorine Meurent, to allegorical Memento Mori.
His works have been exhibited widely and prominently featured in Fine Art Connoisseur Magazine, Drawing Magazine, and American Art Collector. Anthony exhibited his Leonardo Series, at The Samuel Dorsky Museum of Art, SUNY, New Paltz in 2012. The exhibition culminated in the 2015 publication by SUNY Press of The Leonardo Series: Drawings by Anthony Panzera Based on Leonardo da Vinci's Work on the Human Proportion.
His roster of one-man shows includes exhibitions at the Everson Museum, Syracuse, NY; the New Jersey State Museum, Trenton, NJ; the Virginia Beach Center for the Arts, Virginia Beach, VA; the Hickory Museum, Hickory, NC; Bates College Gallery, Lewiston, Maine; and the Nelson Fine Arts Center, Tempe, AZ. More recent presentations include exhibitions at The Asheville Academy of Art in Asheville, NC; The Leubsdorf Gallery, Hunter College, NY; Quidley and Company, Boston, MA; and Studio 7 Fine Art, Bernardsville, NJ.
Anthony was born in 1941 in Brooklyn, NY to Anthony and Louise (Peretta). He will be dearly missed by his loving wife of 57 years, Marie Panzera, his beloved children, daughter Lisa (husband George Cochrane), son Guido (wife Joanna Panzera), his cherished granddaughter Fiamma, as well as his devoted brothers Edward and Richard, their wives, numerous nieces, nephews, cousins, and friends. He was predeceased by his parents, brother Gerald, nephew Andy, and his beloved dogs, Greta and Mia.
Anthony earned a Master of Fine Arts degree from Southern Illinois University, Carbondale, Illinois, in 1967, and an undergraduate degree from the State University of New Paltz, NY in 1963. A long-time resident of Mendham, NJ, he was active in St. Joseph's parish and designed the Millennial stained glass doors for the chapel. An avid runner, he participated in numerous marathons, including those in New York and Rome, Italy. Anthony loved to travel, especially to his beloved Italy, where he spent many hours (much to his son's chagrin) visiting artwork in chapels and churches in far-flung corners of the Italian countryside. Anthony also dabbled in what his family lovingly refers to as "Bud jokes" (think "A horse walks into a bar . . ."), as he was always trying to make everyone he met smile. He maintained his kindness and sense of humor to the very end and he will be sorely missed by all those that knew him.
In lieu of flowers, donations in his memory to the following organizations are appreciated:
The Fresh Air Fund
633 3rd Avenue
New York, NY 10017
National Academy of Design
15 Gramercy Park South
New York, NY 10003
[For more information, please contact Mary Fisher at mfisher@nationalacademy.org]
Biden Victory Fund
Share Your Memory of
Anthony
Our Locations:

Mendham Location:
8 Hilltop Road
Mendham, NJ 07945
973-543-4720
Peapack Location:
176 Main Street
Peapack NJ 07977
908-234-0590
For GPS Purposes use Gladstone, NJ 07934

Peapack Location: For GPS Purposes Use Gladstone, 07934