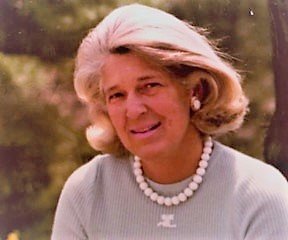 In Memory of
Evelyn Sloane Pyne
1922 - 2018
Obituary of Evelyn Sloane Pyne
Pyne-Evelyn Sloane died peacefully at home in Far Hills, NJ on the morning of December 30th. The third daughter of John Sloane and Elsie Nicoll, Evelyn was born in New York City on May 2, 1922. (Her sisters Gay Vance and Nancy Coates predeceased her.) Evelyn was educated at the Chapin School in New York City, Foxcroft School in Middleburg, VA, and graduated from Barnard College. She married Percy R. Pyne III in 1943 and they had four sons, John Sloane, Percy Rivington IV, Robert Wright and Benjamin Nicoll. Her husband Percy died in 1999.
Evelyn, known as "Evie," had a wonderful life with her husband Percy living on a converted farm that was part of an estate which her parents bought in 1926. The adjacent property to their farm is currently the headquarters of the United States Golf Association (USGA), and the house designed by John Russell Pope that she grew up in is now the USGA Golf Museum.
It is not surprising that golf was very much part of her life. Evie herself was a determined amateur golfer, winning the New Jersey Amateur title in 1966, and was many times a champion at Somerset Hills Country Club where she and Percy were longtime members. She was a stalwart member of the Somerset Hills Women's Golf team for over 50 years, scoring points for the team even in her later years.
With a keen interest in decorating, following the W & J Sloane family tradition, Evie studied at the New York School of Interior Design, and then established her own practice, ESP Enterprises, providing decorating services for clients and family. She was an avid bridge player her entire life, playing with close friends and family well into her 90s.
Evie loved to travel, although in the early years of marriage it was only on ships and trains. Despite this limitation the family had many memorable vacations together, usually to Europe where important historic sites were always "checked off". After Percy died one of the most important trips in 2001 was to Turkey with family members and where her niece Elsie Vance lived. After this trip she was so inspired by Istanbul that she crafted a model of the "Blue Mosque" which is on permanent display in the family dining room in Far Hills.
The Far Hills house was always home to a series of dogs, mostly taken in by Evie because of her love of animals. There are too many names to mention except the last, a Brussels Griffon named Percy.
Above all Evie had a great sense of humor and was a great friend and mentor to many in the Far Hills community. She made new friends easily and sustained loving relations with friends from her childhood. Evie's connection with people meant so much to her, especially in her later years. She was a devout Christian and regularly attended services at St. Luke's in Gladstone until her health began to fail.
Evie had an extended family that was very important to her and with whom she loved to spend time, play sports and games, and travel. With such a long and active life, there are so many fond memories for her family and friends. Five days before her death, Evie spent Christmas Eve with her family, many of whom stood up to toast her with their memories of the many times she had brightened their lives.
In addition to her four sons, and their wives, Evie is survived by eight grandchildren, seven great grandchildren and the aforementioned Percy.
A Memorial Service in her honor will be held at St. Luke's Church in Gladstone, New Jersey on May 4, 2019. In lieu of flowers, donations may be made to the St. Luke's Church, 182 Main Street, Gladstone NJ, 07934. www.baileyfuneral.com



.
Share Your Memory of
Evelyn
Our Locations:

Mendham Location:
8 Hilltop Road
Mendham, NJ 07945
973-543-4720
Peapack Location:
176 Main Street
Peapack NJ 07977
908-234-0590
For GPS Purposes use Gladstone, NJ 07934

Peapack Location: For GPS Purposes Use Gladstone, 07934