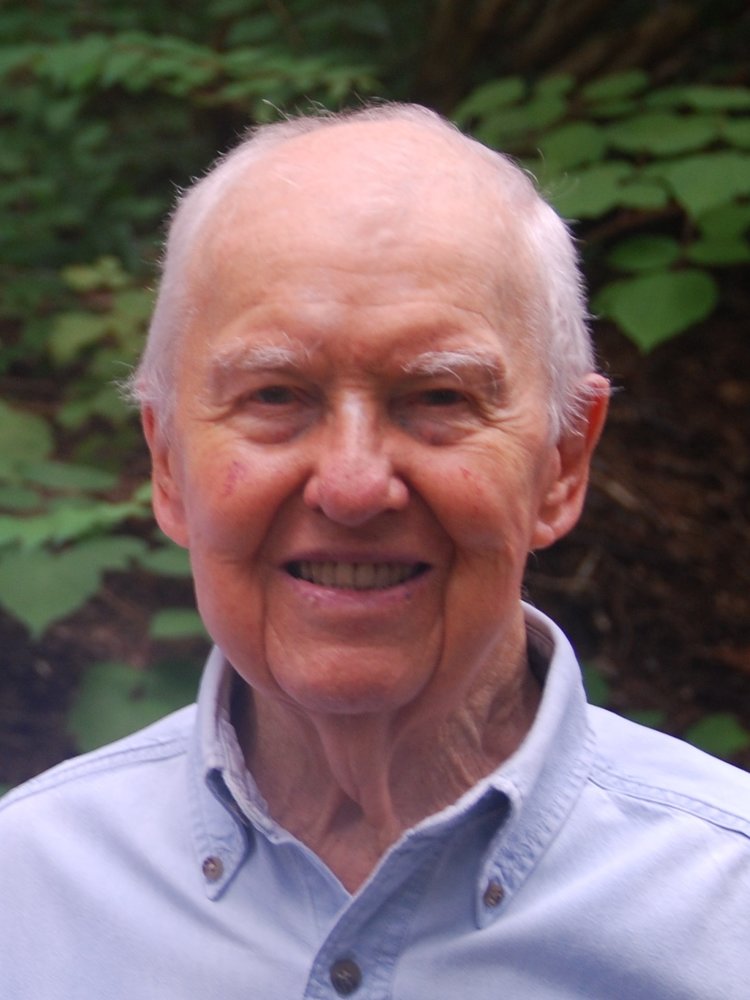 In Memory of
Frederick Bartenstein, Jr.
1917 - 2018
Obituary of Frederick Bartenstein, Jr.
Frederick Bartenstein Jr., age 100, died on Friday, January 12, 2017 at his home in Mendham Township, New Jersey. He was born on October 28, 1917 to Frederick Bartenstein Sr. and Anna Curtis Bartenstein and raised on Wildcat Mountain near Warrenton, Virginia. In 1947 he married Isabel Burnham Anderson (Wellesley 1944), whom he met while an undergraduate at Washington and Lee University in her hometown of Lexington, Virginia. Their marriage lasted 51 years, from 1947 to her death in 1998. First residing in Rahway, New Jersey, the couple relocated to a beautiful wooded setting in Mendham Township in 1951. He is survived by four sons: Frederick III (Joy), Arthur (Margoth), John (Irene), and Thomas (Ana Julia) Bartenstein; seven grandchildren: Melissa Dillon, Anna Bartenstein (Fabio Dallorto), Stephen Bartenstein (Amy Ellenbogen), Christopher Bartenstein, Diana Bartenstein, Isabella Bartenstein, and Thomas Bartenstein; and three great-grandchildren: Zachary Dillon, Calista Dillon, and Marshal Enfield. He attended the Warrenton Country School, Warrenton High School, and Washington and Lee University (AB 1939-Phi Beta Kappa, LLB 1941). After brief service with the Navy, he joined Merck & Co., Inc. in 1942 as an attorney in the Legal Department. He served as Merck's General Counsel from 1953-1961, and spent the last 11 years of his 30-year career with Merck as Administrative Vice President, with responsibility for corporate legal, patent, public relations, economic research, and long-range planning. He was also President of the Merck Company Foundation (1970-72) and active with the Pharmaceutical Manufacturers Association. After retirement, he engaged in consulting, historical research, and board service. Education was a life-long passion, and he spent 30 years as an active trustee of New Jersey's Pingry School, where he served as board president (1979-1981) and chair (1981-1984). He was a key figure in the planning and construction of Pingry's new 200-acre campus in Bernards Township. The Greatest Respect: Pingry at 150 Years (2012) describes his election to the board in 1964: "A quiet, unassuming man, Bartenstein was highly respected and extremely capable. Nevertheless, it is probably safe to say that his fellow board members would have been astounded at the impact the presence of this meticulous and soft-spoken individual would have on the future of the school." Fred and Isabel Bartenstein donated the property for Kendal at Lexington (Virginia) Continuing Care Retirement Community. Both were conservationists, protecting family properties in both New Jersey and Virginia as well as leaders in efforts to preserve New Jersey's Great Swamp and the New Jersey Brigade Revolutionary War Winter Encampment Site, now part of Morristown National Historical Park. The couple researched and co-authored "N.J. Brigade Encampment in the Winter of 1779-1780"—honored as the most distinguished article to appear in New Jersey History journal in 1968—and a book, New Jersey's Revolutionary War Powder Mill, in 1975. Funeral services will be held graveside in Lexington, Virginia, for immediate family members.
Celebrations of the life of Fred Bartenstein, Jr. will be held:
Saturday, May 26, 2018, Airlie Hotel and Conference Center, Meadow Room, 1:30-3:00 pm
6809 Airlie Road, Warrenton, Virginia
Dress: Casual
Sunday, June 10, 2018, Bamboo Brook Outdoor Education Center, Music Room, 2:00-3:30 pm
11 Longview Road, Far Hills, New Jersey
Dress: Casual
Please RSVP to Tina Knox: TinaKnox@woh.rr.com or (937) 408-9599
Share Your Memory of
Frederick
Our Locations:

Mendham Location:
8 Hilltop Road
Mendham, NJ 07945
973-543-4720
Peapack Location:
176 Main Street
Peapack NJ 07977
908-234-0590
For GPS Purposes use Gladstone, NJ 07934

Peapack Location: For GPS Purposes Use Gladstone, 07934