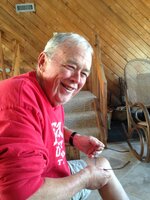 Thomas A. Monahan
Thomas A. Monahan passed away on Friday, May 19, 2023. He was 82 years old.
Born in New York, NY, to parents Harry and Catherine (nee Casey) Monahan, Thomas lived in Flanders before settling in Chester, NJ, where he resided for 40 years.
Thomas attended and graduated from St. Johns University with his Bachelor's Degree in history and continued his education by obtaining a Masters Degree in his field of expertise from Rutgers University. Thomas also served his country proudly as an Army Medic during the Vietnam era and returned home to raise his family.
Thomas worked for AT&T as both a Data Analyst and Project Manager on Wall Street and in Bedminster to provide for his family. He was involved in his daughter's extracurricular activities as a softball coach, encouraged her in everything she pursued and excelled at being a dad. Thomas was also an attentive and constant friend, as he maintained relationships with a group of men that had been close since elementary school, affectionately known as "The Bubbas."
In addition to his family, Tom loved his Irish music, the NY Yankees and always had a story to tell.
Thomas is survived by his beloved wife of 48 years, Laura Benes of Chester, NJ, daughter Elizabeth Monahan and her husband Kevin Wells of Astoria, Queens, NY, sister Ann Keener of New Paltz, NY, and nephews Tom (Maria) and Dave (Jo Honig) Keener. He will be greatly missed by all who knew him.
Visitation will be held on Tuesday, May 23, from 3-7 PM at the Bailey Funeral Home, 8 Hilltop Road, Mendham. A Funeral Mass will be celebrated on Wednesday, May 24, at 11 AM at St. Joseph Church, W. Main Street, Mendham. Interment will be private.