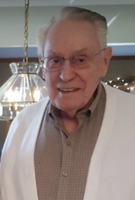 Richard C. Murray
Richard C. "Dick" Murray Sr. passed away peacefully on April 29, 2023 at his home in Bethlehem, PA following a brief illness. His loving wife, Jannett, was by his side when he passed. He was 95 years old.
Born in Riverside, NJ on June 27, 1927, he studied at Villanova University and served in the U.S. Coast Guard before beginning his 46 year career at AT&T. He started outside on the telephone poles and literally climbed his way up the corporate ladder until his retirement in 1987 as the Medical Systems Communications Manager in Basking Ridge, NJ.
Richard and his family relocated to Mendham, NJ in 1974. He was a dedicated Catholic and longtime parishioner at St. Joseph's Church in Mendham.
Dick enjoyed music, entertaining, and had an amazing memory for telling stories and funny jokes. Over the years, he enjoyed taking his family to NYC for the Christmas shows at Radio City Music Hall, skating at Rockefeller Center, baseball games at Yankee Stadium and Knick games at MSG. While not initially an NFL fan, that all ended when he met and fell in love with his future wife, Jannett (and by default the New York Football Giants). Dick became enamored with the team, the stadium and made quick friends with the fans around them. Dick and Jan remained season ticket holders and faithful fans throughout many decades of the teams good and, sometimes not so good, seasons.
Richard was a devoted and loving husband, father, grandfather, great grandfather and friend. Dick is survived by his wife of 44 years, Jannett ("L.B.") Murray, and children Diane Klimas (Robert), Susan Christman (Gary), Brian Murray (Bengie), Sharon Lentine (Joseph Sr.), his grandchildren and great grandchildren. Richard was predeceased by his first wife Dorothy (1974) and sons Richard Jr. (2014) and Robert (2022).
Visitation will be Friday, May 12th from 9 to 10:30 at the Bailey Funeral Home, 8 Hilltop Road, Mendham, NJ. Funeral Mass to follow at 11 am, St. Joseph Church, Mendham, NJ