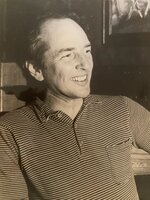 Harden L. Crawford, III
Harden Lake Crawford III, son of the late Harden L. Crawford Jr. and Virginia Armitage Garretson passed away peacefully at his home in Bedminster, N.J. on Tuesday April 25th 2023. He was 91 and a resident of Bedminster, N.J., Islesboro, M.E and Little Harbor, Abaco Bahamas. Harden is survived by his daughter Virginia Crawford Pierrepont (Stuyve), son Harden Lake Crawford IV (Kersti), grandchildren Ailsa Hamilton Pierrepont, R. Stuyvesant Pierrepont IV (Dana), William Bryant Pierrepont (Caroline), Edward Carpenter Pierrepont (Janie), Katrina Magi Crawford, Arabella Moseley Crawford, Tatiana Lake Crawford and great granddaughter Elizabeth Ailsa Pierrepont. His beloved wife of 62 years Ailsa Moseley Crawford, daughter Jane Moseley Crawford and granddaughter Evelyn Crawford Pierrepont predeceased him.
Harden was educated at the Hill School and Columbia University. He served as 1st Lieutenant in the U.S. Marine Corps in the Korean War. He was Principal and President of the Lexington Professional Center, LLC, a medical real estate and service business in New York City for 40 years. Harden was a longstanding member of Somerset Hills Country Club, Essex Hunt Club, Tarrantine Club, New York Yacht Club and the Brook. Along with his wife Ailsa, he created the Jane Moseley Crawford Scholarship in memory of his late daughter at Foxcroft School, Middleburg, VA. He also helped found the Jack Russell Terrier Club of America (JRTC).
Harden lived a life of adventure that was evident in his early years hunting with the Essex Fox Hounds, Coaching with his wife Ailsa and Three-Day Eventing, which included owning and training a mare named Bally Cor who won a Gold Medal in the 1975 Pan Am Games and the 1976 Montreal Summer Olympics with the US Equestrian Team. He followed the horses with hot air ballooning which he did all over the US and Europe and played a significant role in several campaigns that attempted to cross the Atlantic in an open gondola hot air balloon. Later his life turned to building boats and sailing up and down the Eastern Seaboard, Caribbean and the open waters of the Atlantic Ocean as well as fulfilling his artistic ambitions making jewelry, blowing glass, designing houses and later in life learning to play the bagpipes. Certainly, a life well lived.
A celebration of the life of Harden L. Crawford III will be held at St. Luke's Episcopal Church in Peapack, NJ on Thursday May 11th, 2023 at 11a.m. In lieu of flowers the family requests that memorial contributions be made to the Jack Russell Terrier Club of America: therealjackrussell.com - JRTC, PO Box 4527, Lutherville, MD 21094-4527.