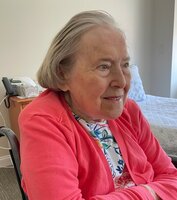 Veronica E. Palescandolo
Veronica E. Palescandolo passed away peacefully on April 22, 2023. She was 90 years old.
Born in Brooklyn, NY, to parents John and Elizabeth (Helmerich) Dunn, Veronica lived in Brooklyn, NY, and Summit, NJ, before settling in Mendham in 1969. She was a woman of faith and a longtime parishioner of St. Joseph Church in Mendham.
Veronica was a loving and dedicated mother to six children, and being a mother was her biggest joy in life. She was active in all of their schooling, activities, and extracurriculars, such as sporting events, Girl Scouts, and religious instruction.
Veronica is predeceased by her husband of 38 years, the late Gaetano Palescandolo, her daughter Ellen Palescandolo, and her brother John Dunn Jr. She is survived by her children, Joseph (Cindy) Palescandolo of Naples, FL, Dr. Michael (Grace) Palescandolo of Naples, FL, Dr. John (Maddalena) Palescandolo of North Caldwell, NJ, Adele (Brian) Lang of Brookside, NJ, and Maria (Brian) Cavanaugh of Delray Beach, FL, 17 grandchildren, and 4 great grandchildren.
Services will be held privately for the family, and Veronica will be laid to rest with her beloved husband in Hilltop Cemetery, Mendham. In lieu of flowers, donations may be made to St. Joseph Roman Catholic Church in Mendham.