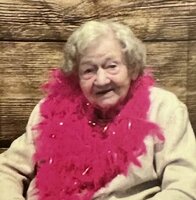 Dorothy Madsen
Dorothy Madsen passed away on March 26, 2023. She was 97 years old.
Born in Plainfield, NJ, to parents Melvin and Hazel (Dilley) Perrine, Dorothy lived in Long Valley and Pleasant Point Beach before settling in Toms River to be close to her family. After graduating high school, Dorothy attended and graduated from Rowan University. She went to work shortly after at her father's car dealership.
Dorothy loved gardening and was a wonderful cook.

Dorothy is preceded in death by her beloved husband of 64 years, Edward Madsen, and her son, Kent Madsen. She is survived by her daughter-in-law Helen Madsen, granddaughter Maryellen (Tom) Small, grandson Peter Knuete, and great granddaughter Maddie.
Visitation will be held from 10-11 AM on Thursday, March 30th, at the Bailey Funeral Home, 176 Main Street, Peapack. A funeral service will immediately follow. Dorothy will be laid to rest with her husband at Fairmount Cemetery in Califon.