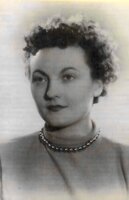 Antoinette G Margules
Antoinette G. Margules of Morris Township died Sunday, January 22, 2023, at Morristown Medical Center. She was in her 100th year, just two months shy of her 100th birthday.
Born in Paris, France, she lived in Council Bluffs, Iowa for more than 30 years before moving to Mendham Township in 1988 and then to Morris Township in 2001.
Antoinette was a loving wife to Maurice P. Margules, who predeceased her in 2000, mother to Marie-Claire Margules of Mendham and Marie-Laurence Fabian of Morris Township, grandmother to Isabelle Fabian and Alexander Fabian, great-grandmother to Zoe Marrero-Fabian, and mother-in-law to David Fabian and Hank Forssberg. After raising her daughters, she helped Marie-Laurence and David raise Isabelle and Alexander.
During her nearly 100 years, Antoinette was witness to many events, both personal and world-wide, from the turbulent events of WWII in France to post-war life in America and, most recently, to the significant changes occurring in the 21st century. As she approached the end, she expressed that she had enjoyed a good and interesting life. Her spirit lives on in the hearts of her family and friends.
Private services will be arranged by the family.