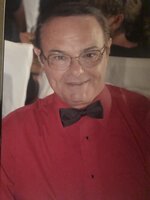 Frederick Giannini
Frederick Giannini passed away on December 6, 2022 at George C Forsythe Hospice House in Auburndale, FL. He was 78.
Born in New York City to Alexander and Isabella Giannini, he grew up in the Bronx before moving to New Jersey to the towns of Englewood and Parsippany in 1970. He was a NYC Police Officer from1965-1984. During his career he worked as a patrolman in Manhattan and as an instructor at the outdoor firing range in New York. After retiring from the NYPD he followed his passion for movies and opened a video store. In 1994 he began working as a Dispatcher for the Parsippany Police Department.
He was predeceased by his wife Patricia in 1992 who he was happily married to for a wonderful 26 years. He moved to Kissimmee, FL in 2009 with his second wife Beverly where he enjoyed his final years living near the Disney parks, one of his favorite places to visit.
He is survived by his two daughters, Dawn Breslauer and her husband Jerry of Chester NJ and Stepahnie Giannini of Pompano Beach FL, his wife Beverly and her daughters Lisa and Jill, his 2 grandchildren Gerald and Cassandra, and his sister Phyllis Brown and her 3 daughters Karen, Janet and Cindy.
Memorial visitation will be held on Saturday, January 14, 2023 from 10-11am at Bailey Funeral Home, 8 Hilltop Road, Mendham NJ followed by a service at 11am in the funeral home. Interment will be private. In lieu of flowers donations to the Parkinsons Foundation in his memory would be appreciated.