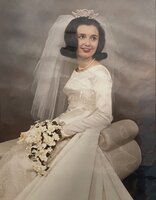 Arden Patricia Sutton
Our beautiful beloved wife, mother, grandmother, and aunt, Arden Patricia Sutton passed away on Monday, December 26, 2022 at Morristown Hospital, NJ after an abrupt illness.
She was 81, and born in Brooklyn, NY, March 10, 1941 to her parents the late Olive Gay Sinclair and James Joseph Gay. She was a resident of Mendham, NJ, for 52 years and spent the majority of her life working as the head receptionist and greeter for various insurance companies in NJ, which she was so good at and loved. She was a member of the United Methodist Church in Morristown, NJ.
Arden was the definition of elegance and beauty. She was strikingly beautiful inside and out and had the most beautiful smile. She was loving, caring, detailed, and brought an abundance of joy to everyone she came into contact with.
She is survived by her husband Leslie Alton Sutton of Mendham, NJ who she was married to for 55 years, her son Leslie James Sutton and daughter-in-law Candace Lynn Sutton of Ogdensburg, NJ, her grandson Travis Sutton of Towson, Maryland, granddaughter Mary Sutton of Sparta, NJ, and granddaughter Laura Sutton of Ogdensburg, NJ. She is also survived by her sister Victoria Hafl and her husband Terry Hafl of Mason, OH, her brother James Joseph Gay and his wife Barbara Gay of Poughkeepsie, NY, and many nieces and nephews. She enriched the lives of all of us on so many levels and will be deeply missed beyond words. We love you Arden.
A memorial service will be held on January 7, 2023 at 11am at the Morristown United Methodist Church, 50 South Park Place, Morristown, NJ