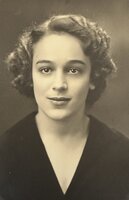 Rose Grievo
Rose Grievo (nee Cillo,) of Foley, AL, and formerly a long time resident of Mendham, NJ, died on October 24, 2022. She was one hundred and one years old.

Born in Brooklyn, NY to Antonio and Philomena Cillo on October 14, 1921, Rose was a 1939 graduate of Morristown High School. Rose's first job was as a secretary for a Morristown legal firm where she earned $5.00 per week. She was also a caregiver for an elderly woman in the area for a short time. During WWII, Rose had a job at a coffee factory in Morris Plains packing coffee in sealed filters for soldiers. She was later employed with the Piston Ring in Stirling making parts for WWII fighter planes--a true "Rosie the Riveter". It was there that she met her husband, Sal, prior to him joining the Navy. They were married on September 26, 1943. She later worked as a candy maker for 20 years with the Price family's Country House Candy. Rose was later was employed with two insurance firms and then retired from the cytology department at Morristown Memorial Hospital (Morristown Medical Center) after 12 years there.

Before her father died, he told Rose to take care of the family because she was "the strong one". She was generous and often helped out relatives and friends.

Husband Salvatore, brother Aniello and Aniello's twin brother who passed at 28 days, sisters Marie, Anna, & Theresa, several brothers-in law and sisters-in law, nieces and nephews, her son-in-law, and her parents predeceased her.
She is survived by her children, Sally Ann Orr, Natalie Kret (Paul), Joseph Grievo (Paula); grandchildren Erik Orr, Kirsten Orr Miller (David), Erin Morgese (James Matsakis), Brian O'Toole (Sarah), Kevin O'Toole, Anthony Grievo (Chelsea), Kelsey Broadus (Kyle), Samantha Wheaton (Taylor); great grandsons, James Miller, Luke Miller, Jack Morgese, Luke Morgese, Emmanuel Matsakis, Brian H. O'Toole, Colin O'Toole, and great granddaughter, Stella Rose Matsakis. She is also survived by her brothers Peter Cillo, Anthony Cillo (Dolores), Dr. Joseph Cillo, James Cillo, and many nieces and nephews.
To honor Rose's wishes, she will be cremated in Foley, Alabama and there will be no funeral services. Burial of ashes will be private.