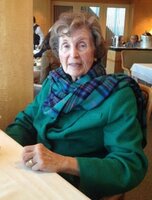 Anne H Ribble
It is with great sadness that her family report the passing of Anne Ribble.
Anne graced the world with her many talents. She loved writing in all its forms – from poetry and puns to professional editing and research papers for her beloved Bayou Bend. A passionate and gifted letter-writer, she was known for witty chronicles of her colorful life. In her retirement years, she developed her talent for photography and leaves behind an impressive corpus of work from her years at the Glassell School in Houston. She also returned to painting and drawing, for which she had immense talent. Anne was a fantastic cook and hostess. She and John were celebrated for their dinner parties and holiday gatherings – from pig roasts to play readings to their famous Casablanca parties. They welcomed a large group of diverse friends in Houston who shared their love of music, costumes, Anne's wonderful cooking and profound friendship.
To her family, Anne was a devoted mother, wife and Nana. She leaves behind her husband, Dr. John Ribble; Daughter, Helen Kielty; Son-in-Law Tom Kielty; and grandchildren Jack and Eliza Kielty. She is also survived by her brother Jerry Hoerner; nephews Chris and Kevin Williamson, Jack and Jeff Hoerner and niece Tania Williamson; and step-grandsons Ryan and Adam Kielty.
Anne and John enjoyed 48 years of marriage, moving from Manhattan to Houston in 1978 and to New Jersey in 2016 to be close to Helen. They traveled the world – China, India, Japan, France, England, Italy – and spent one magical sabbatical in Boston.
Anne was raised in Dayton, Ohio; attended the college "of her mother's choice" – Smith; got her Master's in Education at Radcliffe. She spent her entire career with IBM, spanning the decades from 1956 to 1989. Anne was an active volunteer with the New York and Houston Junior Leagues; A dedicated docent at Bayou Bend; an accomplished photography student at the Glassell School of Art and proud and active member of the Smith Class of 1954. The friendships she forged at Smith sustained her throughout her lifetime; and this Smith tribe also provided daughter Helen with a bevy of godmothers and role models upon whom she has always depended.
Anne was gracious, elegant, occasionally irreverent and wildly intelligent. She will be greatly missed.
A memorial service will be held at 11:00 AM on Saturday, November 26 at St. Luke's Episcopal Church, Gladstone, NJ. A reception will follow the service. All are welcome. Donations in her memory can be made to the following:
Bayou Bend Collection and Gardens
And be sure to add "Class of 1954" under special instructions