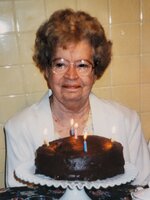 Shirley A Fricke
Shirley A Fricke passed away peacefully on Sept. 20, 2022 at Bridgeway Care center in Bridgewater. She was 96.
Born in Chester, NJ she moved to Pottersville in 1944.
She worked for Paul Rust Publishing/Book Sales for many years before she retired.
Shirley enjoyed crocheting and needlepoint and was an avid reader and card player. She was an active member in the community with her association to the Pottersville Fire Company with her husband Frederick who was a founding member.
She was predeceased by her husband Frederick Fricke and her daughter JoAnn Kearney.
She is survived by her daughter Pam Fricke, her grandson Jason Kearney and wife Susan and her sister Patricia Smock of NC. She is also survived by her great grandchildren Ryan Bruen and wife Kaitlyn, Shane Kearney and fiancé Courtney Gehring and great -great grandson Jackson Bruen.
In lieu of flowers donations may be made to the PottersvilleVolunteer Fire Company.
A graveside service will be held on Saturday at 12 noon at Somerset Hills Memorial Park in Basking Ridge