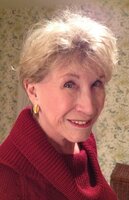 Valerie A Sinclair
Valerie Sinclair, 82, passed away peacefully at her home in Basking Ridge NJ on September 10th, 2022, after a brief illness.
Valerie was born in raised in Luton, England, the only child of Stan Smith, an RAF gunner, and Winifred Val Smith, a pub owner. She married Robert Sinclair and the two lived in England before moving to various locations in France over seven years. While in France, Valerie attended the prestigious Le Cordon Bleu culinary school. She honed her cooking skills and spent the rest of her life throwing elaborate dinner parties complete with the most diverse guest lists.
Valerie had a passion for life surpassed only by her love and dedication to and for her family and friends. She lived an incredible life of kindness and giving and travelled the globe extensively. She would speak to a pauper or a prince with the same reverence and was incredibly kind to all of God's creatures. She was known for her style, elegance, charisma, wit, and memorable speaking voice with a beautiful British accent.
In 1969, Valerie and her family moved to New Jersey, eventually settling in Mendham where she started writing about food and fashion for The Observer Tribune. Soon after, she was sought out by The New York Times to be their restaurant critic for the NJ Section for roughly the next fifteen years. After leaving The Times, she wrote for NJ Monthly Magazine and worked for the Gallup Organization in Princeton.
Several years later, Valerie met and married William Keefauver, also a widower, and they shared a wonderful life in Basking Ridge. They enjoyed traveling extensively and were members of the Shakespeare Club of Morristown and The Morris County Golf Club. Valerie was also a dedicated member of a French Group as well as The Royal Oak Foundation, and had been very involved in many charitable organizations throughout her life. An avid reader and art lover, Valerie sought to get the most out of, and share, every experience.
Valerie is survived by her husband, William Keefauver, her son Stephen and wife Susan and grandsons Riley and James, her daughter Nicola and partner Rebecca, her daughter Fiona and wife Randi, and William's son Bruce and partner Linnea, daughter Elizabeth and husband James, and granddaughters Caroline and Elizabeth, and three great-grandchildren, Kate, Cece, and Milan.
A memorial for Valerie, with a reception to follow, will be held at Grace Episcopal Church, at 4 Madison Avenue in Madison NJ, on Friday, October 7th, 2022 at 11 AM.
In lieu of flowers, donations may be made to the Visiting Nurse Association of NJ or The Humane Society.