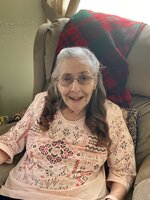 Betty Ann Windt
Betty Ann Windt, 85, of Chester, NJ passed away peacefully on Wednesday, September 7, 2022, surrounded by her family.
Born in Somerville to Joseph Yorlano and Elizabeth Hendershot, she was raised in Peapack before moving to Chester, in 1961.
Betty was a Principal Clerk Typist for the State of New Jersey at Greystone Hospital for 20 years before retiring.
Betty was active in Our Lady of the Mountain Church and St. Lawrence Church and was a member of the rosary society at both churches. She was also a member of the Ladies Auxiliary of Chester Volunteer Fire Company #1 and served on the Ladies Auxiliary at Pleasant Hill Cemetery.
Betty was a wonderful mother who was immensely proud of her children and grandchildren. She was always there when needed and leaves behind nothing but beautiful memories. Betty had many friends that she cherished and was a well-loved member of the community. She was a faithful believer in God and passed her faith onto her family. She will be greatly missed.
She was predeceased by her husband, Edward Windt, Sr. in 2008 and by her brother Anthony Yorlano in 1968.
She is survived by two daughters, Diana Bussard (Brad) of Lexington, SC; Deborah Logan (Neil) of Duncan, SC and son, Edward Windt, Jr. of Chester, NJ (Nancy Morales.) Betty is also survived by her grandchildren, Michele Beam, Sarah Pardue, Mel Bussard, and Dylan and Connor Logan; as well as her extended grandchildren Wendy Bussard, Christopher and Robert Logan, Kelsey Bautz, Kyle, Abby, and Colby Morales. In addition, she has several great grandchildren.
Visitation will be held on Sunday, September 11th from 1-5 pm at the Bailey Funeral Home, 8 Hilltop Rd., Mendham. Funeral Mass at Our Lady of the Mountain Church, 2 E Springtown Rd, Long Valley, on Monday, September 12th at 11 am. Interment to follow at Pleasant Hill Cemetery, Chester.
In lieu of flowers, please make donations to Chester Fire Company Ladies Auxiliary PO Box 506, Chester, NJ 07930.