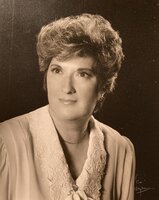 Joan M "Joanie" Carr
It is with deep sadness that we announce the passing of Joan M. Carr, 86 of West Orange, formerly of Upper Montclair, NJ.
Joan was a woman of great compassion, kindness and generosity. She was a gregarious person with an easy smile, an infectious laugh and an interesting story at the ready. She was loved by everyone, even those that only knew her briefly.
Joan was a devoted wife, mother, sister and friend. She was extremely proud of having been born and raised in Brooklyn, NY and of her Italian heritage. She had the occasion to visit Italy many times with both family and friends and always returned full of joy. This joy carried over into her kitchen where she crafted delicious dishes and welcomed all as family.
Joan was a real-estate salesperson with Rhodes Van Note in Upper Montclair for most of her professional career and later worked as an administrative assistant for various doctors' offices in the area.
Although small in stature, she had a big heart and was fiercely protective of her family and friends and volunteered whenever possible to help others. She was most proud of her work helping children with Cerebral Palsy and acting as a coordinator for A Dinner of Hope, Inc. a non-profit that raised money for various children's charities in NJ.
Joan was predeceased by her husband, D. Bernard "Bernie" Carr of Upper Montclair, NJ, her brother Joseph Barba and parents Emilio and Jean Barba of Brooklyn, NJ
She is survived by her sisters, Rosemary Borriello & husband Paul of Staten Island, NY and Janet Barba of Brooklyn, NY.
She is survived by her loving sons, Robert and his wife Patricia Bradley, of Glen Ridge, NJ, and Stephen and his wife Diane of Edgartown, MA.
She is also survived by her grandchildren, Erin Carr of Glen Ridge, NJ, Michael Carr and his wife Chelsey of Mendham, NJ, and Allyson Fernholz and her husband Jake of Lake Elmo, MN.
She was especially proud to have enjoyed spending time with her three great-grandchildren, Matthew and Nathan Carr and Stevie Marie Fernholz.
A private family graveside service will be held at Mt. Hebron Cemetery in Montclair. A celebration of her life will be announced at a later date. Donations can be made in her memory to St. Jude's or Wounded Warriors Project or the charity of your choice.