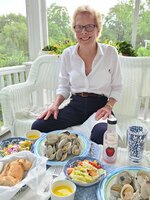 Pamela Ann Hill
BUSINESSWOMAN & WORLD TRAVELLER
Pamela Hill of Clinton, passed away peacefully at her home on August 22nd with her family present. She was a young 85. She grew up in Gladstone and has lived in Clinton for over fifty years.

Pam was owner and President of Hunterdon Travel Agency in Clinton for twenty-five years. She was a very well-travelled woman who still had places to go and people to see. The lions, elephants and tigers will miss her in Africa.

Following the sale of her agency, she became office manager and then President of Ferris Corporation, Gladstone.

She served on the Board of Directors of the Peapack-Gladstone Bank from 1991 to 2013 and was an active member of the Trust Committee and the Audit Committee at the Bank. Pam also served as a Board member of the 200 Club of Tewksbury Twp. and Red Mill Historical Society of Clinton.

She is survived by her son, Kingsley and daughter-in-law, Patrizia Hill of Gladstone, her daughter Michelle DeLucas Webb of Fountain Hills, AZ, her brother, Garner "Buzz" Hill and his wife, Nancy, of Denver, CO. as well as her beloved grandchildren, Caroline and Christian Webb and Sam and Kate Hill.

Memorial gifts may be made to the Clinton Fire Department.