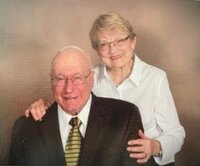 Helen Marie Brede
Helen Marie Brede, 90, of Mendham, NJ went to be with our Lord on July 29, 2022. Helen was born in New York, New York on July 24, 1932 to Edward and Marie Woltmann. She was raised in Queens, NY where she met her husband of almost 70 years, Richard. Throughout their marriage, they lived in West Hempstead, NY, Arlington Heights, IL, Chagrin Falls, OH, and for the last 45 years, in Mendham, NJ.

She was preceded in death by her husband, Richard Ernest Brede, in 2019. She was a loving mother of Robert Brede and Patricia Brede Mangino. In addition to her children, Helen is survived by her grandchildren Sarah Legas (Matt), Ben Brede (Katie) and Emma Mangino and Great Grandchildren Wyatt Legas and Georgia Brede.
Helen and Richard were active members of the Mendham Hilltop Presbyterian Church. Helen served as an Elder and had a passion for greeting visitors, meeting with potential new members, and welcoming them into the Church family.
Helen and Richard were also members of Germania Park, Dover NJ, and sang for many years in the Deutscher Schul und Gesangverein Chorus.
She was an excellent cook and enjoyed vacationing with her family on Lake George, NY.
A funeral service will be held at Hilltop Presbyterian Church on Saturday, August 6, 2022 at 11:00am.
In lieu of flowers, please consider a donation to Atlantic Health Hospice.