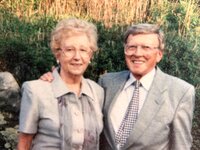 Julia Tallia
TALLIA Julia Louise, 101, passed away July 20, 2022 at home at Parker Health in Highland Park, NJ where she had lived for most of the past decade. She had previously lived in Cedar Crest, Pompton Plains.
Born in Union City on September 20, 1920, Julie was the daughter of Emilio Maron and Emelia (Maria) Muzio, both of whom immigrated from northern Italy. She lived for most of her life in the Lakeview section of Paterson. A graduate of Paterson public schools, she received a business secretarial degree from a local institution. Upon completion of formal schooling, she was hired by the Metropolitan Life Insurance Company in Passaic and rose to become the assistant office manager before retiring after marriage. She participated in many community activities including organizing successful efforts to develop a library at the city public school # 25, and serving as local ward alderwoman. She also worked in the mayor's office for a period of time.
She was predeceased by her husband of 56 years, Alfred S. Tallia, who died in 2009. She is survived by her two children, Alfred F. Tallia, MD (Elizabeth), of Pottersville, New Jersey, and Amy T. Bidwell, Esq., (Dale) of Plain City, Ohio, and her grandchildren, Matthew and Christopher Tallia, and Evan Kerns.
Visitation will be held on Saturday, July 30, from 9:30-10:30 AM at the Bailey Funeral Home, 176 Main St, Peapack NJ 07977. A Funeral Mass will follow visitation at 11 AM at St. Bridget Church, 129 Main St, Peapack NJ 07977, followed by a repast. Burial will be private at Calvary Cemetery in Paterson, NJ. In lieu of flowers, the family asks that a donation to a favorite charity be made in her memory.