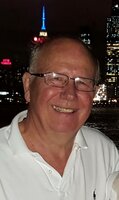 Claude A Johnson
Claude Johnson of Morristown, NJ peacefully passed away on July 5, 2022, after an 8 year plus battle with Alzheimer's Disease. He was born March 24, 1946, in Rutherfordton, NC to Ola and Hal Johnson. Claude leaves, Tina, his wife of nearly 54 years; son Chris (Jenn) Johnson and daughter Kathryn (Bill) Gates as well as 3 adored grandchildren, Hunter and Payton Johnson, and Emily Gates. He is also survived by his sister, Sharron Johnson and his brother, Thurman Johnson who are both in Boone, NC, where Claude spent grade and high school years. He leaves many nieces, nephews, cousins, and friends. He was predeceased by his two brothers, DH & Eddie, as well as his parents.
After graduating from West Point, he proudly served in the Army for 5 years which included receiving the Bronze Star for service in Vietnam. His corporate and entrepreneurial careers afforded him even more exposure to the world. With an immense love for new experiences, travel was a real tonic. He lived by the ethic that a stranger was simply a friend he hadn't met yet. Millionaire or homeless, it never mattered which, all received the same treatment. Claude just loved people. He was a selfless, honorable man who left a mark on everyone he met.
Besides his intense pride for and love of his family, volunteering, gardening, and needlepoint were true joys. After retiring, he would work several hours at a local nursery, then work in a school program, where teachers from low-income schools would "shop" for free school supplies! Upon returning to New Jersey, he volunteered at the Frelinghuysen Arboretum (earning Volunteer of the Year) and at Nourish, NJ, a community soup kitchen serving underserved families. For years, he would destress by creating masterful works of art in needlepoint!
Truly a renaissance man, he was a state champion wrestler in high school. At West Point he said that "he won more matches than he lost!" As a result of his athletic endeavors, he will selflessly and generously participate in the VA/BU study for Chronic Traumatic Encephalopathy.
There will be a local celebration of his life on Friday, July 22nd from 5 to 9 pm at
Boxcar Restaurant, 25 Chatham Rd, Short Hills, NJ for friends to share a burger (favorite food!) and raise a glass in Claude's honor.
His final resting place will be at West Point at a later date.
In lieu of flowers, please consider making a donation in Claude's name to:
Alzheimer's, New Jersey, 425 Eagle Rock Ave, Ste. 203, Roseland, New Jersey 07068 alznj.org
or Nourish, NJ, 57 E Park Place, 2nd Fl, Morristown, NJ 07960 nourishnj.org