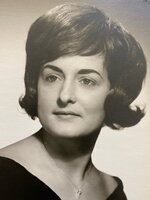 Mary Catherine Bocchino
Mary Panella-Bocchino ("Little Mary") passed away on Monday, June 13, 2022, after a long illness. She was 80.
Mary was born and raised in Mendham, New Jersey. She was a longtime resident of Bernardsville, New Jersey. Mary was actively involved in sports and was a 1960 graduate of West Morris High School. Her favorite jobs were at The Mennen Company and F. W. Woolworth.
Mary is survived by her two daughters Angela Knable and her husband Richard and Mary Ann Voitel and her husband Richard. She is also survived by her two grandchildren Richie Voitel and Nichole Voitel-St. John. She is predeceased by her parents Mary Elizabeth (Gensch) and Gerald Thomas Panella.
A visitation will be held at Bailey Funeral Home, 8 Hilltop Road, Mendham on Thursday, June 23rd from 11-1 pm followed by a Funeral Service in the Funeral Home at 1pm. Interment to follow at Hilltop Cemetery in Mendham. In lieu of flowers, donations can be made to Halifax Health Hospice, 3800 Woodbriar Trail, Port Orange, FL 32129 or online at halifaxhealth.org/giving.