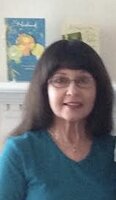 Ann B Sullivan
Ann Sullivan passed away on June 4, 2022. She was 76 years old.
Born in Morristown, NJ to parents James and Marion (Bartles) Louden, Ann attended and graduated from Lasell Junior College with an Associates in Science. She worked as an executive assistant for AT&T and then Verizon for 40 years before retiring.
Ann had a huge heart and loved all animals, but had a special fondness for German Shepherds and often made donations to the ASPCA and The Seeing Eye to help care for her furry friends. She was a strong, brave, and incredibly generous woman who was dedicated to her family and often put others and their needs before her own. While she enjoyed relaxing activities like time spent with her family, vacations on Hilton Head Island, reading, theater and music, Ann enjoyed adventure and even held a pilot's license for a short time.
Ann is survived by her beloved husband, Robert Sullivan, daughters Caitlin Sullivan, Alice Boyce, step-sons John Michael Sullivan, Robert G. Sullivan, Jr., Jonathan Sullivan, and was predeceased by step-son Sean Sullivan. She is also survived by her brother, James Louden, and was predeceased by her sister, Patricia Louden.
Visitation will be held on Thursday, June 9, from 11 AM to 12 PM at the Bailey Funeral Home, 176 Main St, Peapack NJ 07977. A service will take place at 12 noon, following the visitation. Ann will be laid to rest following services at Fairmount Cemetery. In lieu of flowers, donations in her memory may be made to the ASPCA or The Seeing Eye.