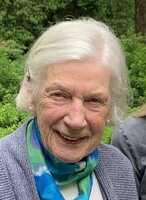 Inge M Breves
94, beloved resident of Mendham
Inge Meiners Breves passed away peacefully surrounded by family on Sunday, May 22, 2022, at her home in Mendham. She was 94.
Born in Celle, Germany on May 30, 1927, Mrs. Breves immigrated to the United States in 1948 and married her late husband, Mr. Laurence Breves, in 1949. Mrs. Breves became a U.S. citizen in 1950. She lived with Mr. Breves and her two sons in Quincy, Mass. and Cos Cob, Conn. before moving to Mendham in 1976.
As a cherished member of her family, Mrs. Breves was affectionately known as "Omi" and took great joy in sharing interests with her husband, sons, grandchildren, and great-grandchildren. She exhibited a remarkable capacity to connect with family members of all ages and was generous with her love, support, and wisdom.
Mrs. Breves was an accomplished gardener who served as President of the Mendham Garden Club. She was a lover of classical music concerts, the Metropolitan Museum of Art, and nature walks. She treasured the many friends she made through her membership in the International Club, bridge and book clubs, and through local volunteering. She will be remembered as a gracious friend and neighbor who often showed her affection through delicious German tarts. Throughout her entire life, Mrs. Breves maintained family connections and friendships in Germany that extended back to her childhood.
Mrs. Breves survived her husband, Laurence Breves, and eldest son, Peter Breves. She is survived by her son, Thomas Breves and his wife, Pamela, of Bethesda Md., six grandchildren, and three great-grandchildren.
A memorial service will be held at Hilltop Presbyterian Church in Mendham on a date to be announced. Arrangements are by the Bailey Funeral Home of Mendham, (973) 543-4720.
In lieu of flowers, please consider a donation in Mrs. Breves' name to Mendham Borough Library, 10 Hilltop Rd., Mendham, NJ, 07945 mendhamboroughlibrary.org.