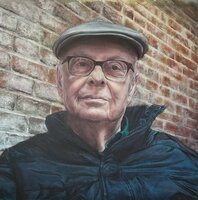 J. Edward Beck
John Edward ("Ed") Beck passed away on May 9, 2022 at the age of 90.
Born in Yellow Springs, Ohio in 1931 to parents John Frederick and Lillian (Donley) Beck, Ed attended John Carroll University and graduated from The Ohio State University in 1953, majoring in marketing with a minor in accountancy. Following service in the United States Navy as Navigation Officer on a Landing Ship Dock he began a career in sales and marketing, spending the bulk of his working life in the Bell System. Upon his first wife Maralyn's death in 1976, Ed moved to Morris County, New Jersey. Undertaking an MBA at Pace University, he met fellow student Priscilla Graef. Married in 1979, his loving wife Priscilla survives him. Also surviving are sons J. Robert of Spring Lake Heights NJ, Timothy Edward of Albuquerque NM, and Brian F. of Brooklyn NY, as well as a large extended family including seven grandchildren and seven great-grandchildren. He was a parishioner of St. Joseph Roman Catholic Church in Mendham NJ.
Ed was a man of great integrity who would bring smiles to the faces of family and friends with his gentle humor. Upon retirement from Bell Communications Research, he used his accounting background to serve as a volunteer tax preparer for seniors. Ed read avidly, had a fondness for wild horses, native art of the American Southwest, outdoor grilling, and sports teams from Cleveland and Ohio State. He found inspiration and tranquility at the family's homestead in the Northern Catskill mountains. Uppermost in his heart stood Priscilla, faith, and family.
Visitation will be held on Monday, May 16, from 9-10:30 AM at Bailey Funeral Home, 8 Hilltop Rd, Mendham. A Funeral Mass will take place following the visitation at 11 AM at St. Joseph Church, W. Main St. Mendham. Interment will follow Mass at Valleau Cemetery in Ridgewood NJ. In lieu of flowers, donations in Ed's memory may be made to the Fresh Air Fund or Doctors Without Borders, or to a charity of the donor's choice.