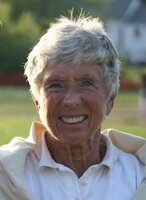 Jean Roy Lamp
Jean Roy Lamp, 93, passed away on May 2, 2022. Born in New York City, NY, she grew up in Glen Ridge and lived in Mendham, NJ for 45 years, retired to Newbury, New Hampshire before recently returning to New Jersey.
Jean spent her summers as a child up at the Roy family farm in Fredon, NJ and in her teens on canoe trips in Canada, from both of which she had many fond memories. She graduated from Glen Ridge High School where she was a cheerleader and went on to Endicott College where she earned an Associate's Degree in Fine Arts.
She was introduced to her future husband, Dick Lamp, on a blind date at Pal's Cabin in West Orange, NJ. They married in 1957 after six months of dating.
Jean had a knack for gardening and refinishing antiques, she was a talented artist and craftsman. She volunteered with the Mansion in May, Morris View Nursing home, and the Morris County Women's Jail. She worked with Bonnie Brae, the Junior League, and sang in the Brookside Belles. Jean was particularly proud to be a member of the Daughters of the American Revolution (DAR) – descendant of Judge John Roy of Basking Ridge.
Jean was extremely active in the Montclair Ski Club and the Mendham Golf and Tennis Club where she played paddle tennis and golf. She loved being an "18 Holer" and saved all of her golf scorecards from her rounds shot in the 90's. She walked everywhere with her German Shepherds – it was a frequent sighting in Mendham to see Jean in her Coupe, top down, with her shepherd Heidi - twice her size – as passenger.
Jean was a stunner all her life, known for her pastel wardrobe which accentuated her year round tan. She could be found on her chaise lounge in the dead of winter if it was sunny out or catching rays on the sidelines of her grandchildren's sporting events.
Daughter of Ernest Hood Roy and Ruth Blair Hart, Jean was predeceased by her husband of 59 years, Richard W. Lamp and her sister Anne Warman. She is survived by her children, Wendy Lamp Potter of Mendham, NJ and James Roy Lamp (Laurie) of Bedford, New Hampshire. She adored her six grandchildren Stewart Potter, Caroline Potter Dunne, Curtis Lamp, Barrett Lamp, Emmie Lamp and Griffin Lamp. She is also survived by two great-grandchildren Estelle and Arthur Dunne. Jean will be greeted in heaven by her beloved canines Duke, Charcoal, Schatzie, Kinder, Tory and Heidi.
A memorial service is planned, date to be determined.