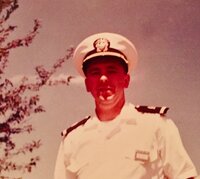 David Ross Sheppard
David Sheppard, loving husband to his wife of 60 years, Melanie, and devoted father to his greatest source of pride, his four children Valerie, Chris, Eric and Jenny, died peacefully at home surrounded by his family on Thursday, April 28, 2022.
David was born in Kearny, NJ and raised in Summit, NJ. He was a 1956 graduate of Summit High School and a 1960 graduate of Tufts University in Medford, MA.
After graduating from Tufts, David chose a career in dentistry and attended Seton Hall School of Dentistry in South Orange, NJ. In 1963, he married Melanie Ketterson, and the young couple moved to Illinois when David was stationed at Naval Station Great Lakes with the US Navy as a Lt. Commander from July 1963 until July 1965, then moved to Chatham when David launched his dental practice in Summit.
David dedicated his life to raising his family in Chatham. He and Melanie bought their first house in 1965. They resided in Chatham until 2001, when they moved to Mendham. David's four children all graduated from Chatham High School, and he cherished reminiscing about family gatherings and parties and the many friends who passed through the old house.
David enjoyed watching his children play Chatham Eskie sports. A highlight of his life was the football team defeating New Providence 20-14 in a state championship game, and he took pride that his son was an Eskie. David loved the game, but he especially loved watching his son play. After the game, the team was paraded through town by the Chatham Fire Department, followed by a memorable party at the Sheppard house. A favorite day on the calendar was Chatham's annual July 4 Parade, which David attended with his family, savoring in the tradition and catching up with friends in town.
David took joy in being outdoors and revisiting chapters of his life through nature. His love of the sea was inspired by days spent along the Jersey Shore with his father, Harold Sheppard, who instilled in his son a lifelong love of fishing. Spending time at the beach with family reconnected him with precious memories of his father, mother Marie and sister Joan. When David retired from dentistry, he was never happier than when on his outside patio gathered around a fire, surrounded by family and friends.
David Sheppard's goodness lives on in his wife and children, his grandchildren Meredith and Ethan, and everyone who knew him. Honest, authentic and uncomplicated, David was the bedrock of his family, a man that could always be counted on and trusted. He will be dearly missed.
David is survived by his wife, Melanie Sheppard, his four children, Valerie Daniels (Rick), Jennifer Quinn, Eric and Chris and his two beloved grandchildren, Meredith and Ethan.