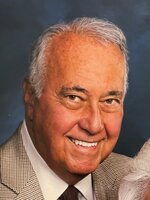 Anthony J. Bartolotta
Anthony J. Bartolotta (Bart), of Bedminster, NJ and Palm Desert, CA, passed away peacefully on April 22, 2022. Son of the late John & Helen Bartolotta, he was born on Sept. 7, 1929.
A native of Newark, NJ, he graduated from Seton Hall University where he earned a Bachelor of Science degree in Chemistry, and then he went on to earn his Masters degree in Physiology from Fordham University. He was very active in numerous civic, business, and charitable organizations. He was President of Victory Optical Mfg. Co. in Newark, NJ, was the former Chairman of the Frame Division of the Optical Manufacturers Association, and upon retirement, he stayed active in the optical industry and became President of Styl Rite Optics. He was a founder and member of the Board of Directors of Village Bank of South Orange, the former Chairman of the NJ State Police Retirement System, and a member of the Board of Trustees for United Cerebral Palsy.
Bart was a very devoted family man, who loved to golf at Hamilton Farm Golf Club in Gladstone, NJ, and Ironwood Country Club in Palm Desert, CA. He enjoyed traveling and dining out with family and special friends. He had a quick wit and an easy smile and will be lovingly missed by his wife of 70 years, Palma, his sister Marge Scholl, his daughter Toni (Scott) Salantrie, son John (Patricia) Bartolotta, his grandchildren Christopher, Stephen (Samantha), John Jr., and Matthew (Michelle), and many great-grandchildren. He is predeceased by his sister Theresa Masiello.
A funeral mass will be held to celebrate his full life on Wednesday, April 27th at 10:30 AM at St. Brigid Church in Peapack, NJ. In lieu of flowers, donations in his memory may be made to St. Jude Children's Research Hospital, 501 St. Jude Place, Memphis, TN 39105 (www.stjude.org) or to the Far Hills Bedminster Rescue Squad (www.fhbfas.org)