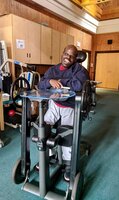 Cornelius Kent
Cornelius "Cory" Kent passed away on December 31, 2021. He was a beloved long time resident of the Matheny hospital for 30 years. While at Matheny, he was a Special Olympic athlete, an avid participant of the Arts Access program through dance and various art medias, and a member of the vocal choir where he performed on stage with the Holiday Express band at the NJ Performing Arts Center and Count Basie Theater. Cory's infectious smile and the way he could light up a room when he serenaded you with his favorite songs will greatly be missed.
In Special Olympics he competed in track and field in Somerset County for many years. He competed in the throwing events. He loved music including Motown, soul and folk music. He enjoyed creating his own music and could often be heard improvising on the piano, playing rhythms on the drum and maraca during his music therapy sessions. Some of his favorite songs were Michael Jackson's Beat it, Whitney Houston's I Wanna Dance with Somebody, You Are My Sunshine, Lean On Me, and Take Me Out To The Ball Game. He was a member of the Matheny vocal choir and performed on stage with the Holiday Express Band at the NJ Performing Arts Center and Count Basie Theater. He loved animals, listening to and singing music, dancing, and interacting with others. In the Art Access Program, he created his art by holding a marker and working on paper or using a stylus to make brush strokes for digital art. While creating his art, he often listened to Motown music. He enjoyed the creative movement program within the Arts Access Program. He would come to life when he heard his favorite songs. He had a strong grip and was a great dance partner. He enjoyed being read nonfiction books about animals too.
Services will be private.