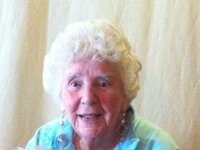 Bernice Farrington
Bernice Farrington passed away on December 19, 2021. She was 93 years old.
Born in Jersey City, NJ, to parents William and Catherine (Reilly) O'Sullivan, Bernice moved to Mendham shortly after marrying the love of her life, Michael, and was a lifelong resident. She was a devout Catholic and a parishioner of St. Joseph Church in Mendham.
Bernice's favorite place was the beach, she loved to spend time near the ocean. However, her biggest love was being a grandmother, and her grandchildren were her pride and joy.
Bernice is predeceased by her husband of 60 years, Michael Farrington, and her brothers William and Eugene O'Sullivan. She is survived by her daughter, Michele (Darryl) Eppel, son Keith Farrington, and grandchildren John and Caitlin Dean, Michael, Timothy, and Gillian Eppel.
A memorial service will be held sometime in the spring by Bernice's family. She will be buried at a later date with her husband in Hilltop Cemetery in Mendham. Donations in Bernice's memory may be made to the American Cancer Society, P.O. Box 22478 Oklahoma City, OK 73123.