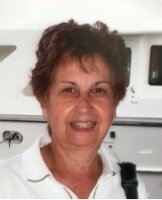 Carmela Starycki
Carmela (Mancuso) Starycki passed away at her home in Oldwick on November 18, 2021. She was 85 years old.
Carmela was born, raised and lived in the Peapack area most of her life. She was a life-long parishioner of St. Brigid Church in Peapack where she dedicated many years of service managing weekly and holiday floral decorations, a role she proudly inherited from her father, Anthony Mancuso.
In 1964, she co-founded and owned with her husband, Ted, Bedminster Florist which they operated for 16 years. Her love of flowers was highlighted in her own home with a venerable collection of prized orchids. Carmela was also an avid golfer and was a 25 year member of Roxiticus Golf Club.
She is predeceased by her beloved sisters, Amelia and Josephine, and survived by her husband of 61 years, Ted Starycki. She is also survived by her niece, Cynthia Steward, and nephews, Michael Sisto, Anthony Sisto, and Robert James.
A Funeral Mass will be held on December 3rd, at 10:30 AM at St. Brigid Church, Peapack, followed by interment at Holy Cross Cemetery in Basking Ridge.
Contributions in her memory may be made to St. Brigid Church, 129 Main Street, Peapack, NJ 07977.