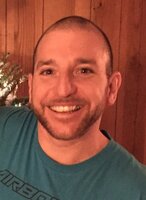 Jason Lee Fedo
Jason Lee Fedo passed away on November 13, 2021. He was 40 years old.
Born in Denville, NJ, to parents Thomas and Jessie (VanNess) Fedo, Jason grew up in Parsippany & Oak Ridge, Jefferson Township, NJ. He attended and graduated from Jefferson High School in 1999.
Jason was a thrillseeker and loved to play. He started competing in Motocross Racing at age 11. At 15 he made it to Loretta Lynn's Family Ranch AMA Amateur National Championship in scenic Tennessee. Jason then moved onto Down Hill Bicycle Racing and won a championship in 2013.
While playing, being goofy, and having fun were his preferred ways to spend his time. Jason worked very hard, starting young at his family's construction company. He moved on to a job at the sanitation department for a while, but had spent the last 14 years working his way up to Project Lead at M&M Mars in Hackettstown, NJ. Since starting in 2007, many of his coworkers became close friends.
Jason is predeceased by his parents, Jessie VanNess and Thomas M. Fedo. He is survived by brother Tommy Fedo, sisters Jodi Legora and brother in law Casey Legora, Tina Fedo, his children Paige and Tyler Fedo, their mother Suzanne Jackson, nieces Brielle Fedo, Giana Rossi, Allyson Legora, and Jessica Fedo, nephew Anthony Rossi, the DiMarco, Williams, Caravella , Mendoza, Steele, Jeffries, Browning, and VanNess families, his father's long-time companion Geri Frawley, close friends Jason Goritski, Walter Gorman, Jason Marra, Nick Distasi, John Nicholson, Greg DeFeo, and many relatives, friends, and coworkers. Jason will be missed by all.
A private family service will be held. Visitation will be on Monday, November 22, from 3-7 PM at the Bailey Funeral Home, 8 Hilltop Rd Mendham NJ.