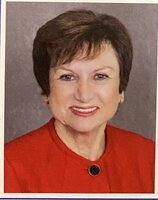 Pauline S Derrick
Pauline S. Derrick (nee Scherzer) passed away on Tuesday, November 9, 2021, at Brightview Randolph Assisted Living Facility in Randolph, NJ. She was 85 years old.
Pauline was born in Morris Township to Paul and Enid Scherzer. She attended Morristown High School, was class President and graduated in 1955. She graduated from Douglass College and received her masters degree from Rutgers University on a National Science Foundation Scholarship. She was a math teacher at Madison High School and then worked for many years as a Realtor with both Turpin and Coldwell Banker Realtors. She was very well respected and received many awards for her outstanding work.
Pauline was a member of Mendham Hilltop Presbyterian Church. She was also a member of the Mendham Golf & Tennis Club. She enjoyed spending summers at her Long Beach Island home with her beloved family. She also enjoyed times with friends in Sarasota Florida.
Pauline is survived by her husband of 62 years, Bruce, her son Bob, daughter Lynn, daughter in law Lisa, son in law Woody, and four grandchildren; Alyssa, Nick, Mike and Lexi.
Visitation will be held at Bailey Funeral Home, 8 Hilltop Road, Mendham, NJ. on Saturday, November 13th from 12pm-2pm. In lieu of flowers, donations can be made in Pauline's memory, to Ennoble Hospice, 1 Edgeview Drive, Hackettstown, NJ 07840 or Hilltop Presbyterian Church, 20 Hilltop Road, Mendham, NJ 07945.