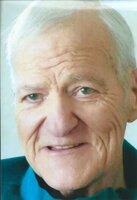 Roy John Bayles Jr
"Roy John Bayles, Jr. passed away at home, surrounded by his loving family, on November 3, 2021. He was 79 years old.
Born in Somerville, NJ, to parents Roy Sr. and Viola (Beers) Bayles, Roy grew up in Gladstone, NJ, before getting married and moving to Bernardsville, NJ, where he has been a resident for 55 years. He was a longtime parishioner at Good Shepherd Presbyterian Church in Bernardsville.
Roy worked as a produce manager for Shop Rite, and a staple at the Bernardsville store. He was an incredibly hard worker who always chose the early shifts so he could be home with his children after school. He was a doting and involved dad, who planned his children's homemade Halloween costumes all year long. While they may not have been the most conventional, they always won first place in contests. In his free time, he enjoyed watching bowling, wrestling, and game shows, going on car rides, baking, and volunteering with the Bernardsville Lyons Club, where he had the honor of serving as Grand Marshall in the town Memorial Day parade.
Roy is survived by his beloved wife of 55 years, Carol Gearhart Bayles, sons Jonathan (Denise) Bayles and Timothy Bayles, daughters Deanne Wangerien and Carol (Edward) Gaibor, and grandchildren Virginia Bailey, Madison, TJ, Mackenzie, Edward, Hailey, Luke, Alyssa, and Julia. He is predeceased by his siblings, Sarah, Sandy, and Francis "Buddy" Bayles.
Visitation will be held on Sunday, November 7, from 1-5 PM at the Bailey Funeral Home, 176 Main St, Peapack NJ 07977. A Funeral Service will take place on Monday, November 8, at 11 AM at Good Shepherd Church, 321 Mine Brook Rd, Bernardsville, NJ 07924. In lieu of flowers, donations in Roy's memory may be made to the Bernardsville First Aid Squad at 118 Mine Brook Rd, Bernardsville, NJ 07924."