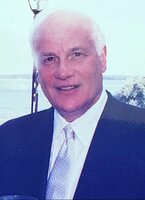 Ernest F Del Guercio
Ernest F. Del Guercio died peacefully with family at his side on Monday, September 6, 2021.
Ernest leaves a legacy of courage, strength and love after a challenging battle from a virus contracted in 2019. His family paid him a great honor by writing a book "A Tribute to a Great Man," which they shared with him prior to his passing.
Ernest was born on September 11, 1937 to Ernest Del Guercio and Josephine De Stephano Del Guercio in Newark New Jersey. He was an accomplished athlete, artist, educator, and business builder, described by many as a renaissance man. He is most known for his quick wit, tenacity, loyalty to family and generosity.
Among his many accomplishments, he built a thriving art program as an art teacher at Columbia High School in Maplewood, then as Director of Related Arts K-12 for the District of Maplewood and South Orange. He was a graduate of Montclair State College. Art education remained a passion throughout his life and he is credited for helping many young people find their voice through artistic expression. While teaching, Ernest earned additional master's degrees and also built a successful, real estate appraisal company, Appraisal Systems Incorporated. He was a generous community leader, residing in Mendham New Jersey since 1972, and he was active in philanthropy and other civic activities throughout the State.
Ernest is survived by his three children, Laurie Kirkegaard, Kathleen Kececi, and Ernest F. Del Guercio, Jr. "Rick" and their spouses and children including: James Kirkegaard, Ethan Kirkegaard and Alexandra Kirkegaard: Erol Kececi, Samuel Kececi and Peter Kececi: Marianne Del Guercio, Britney Ellis, Amber Ellis, Robby Del Guercio and John DelGuercio. He is also survived by his brother Richard Del Guercio, and wife Terry Del Guercio, his sister-in-law, Pamela Fenrich and her husband Allen Evans and his sister-in-law Eileen Fenrich. He is also survived by 8 nieces and nephews and their families.
The family is comforted knowing that Ernest is now reunited with his wife of 60 years, soulmate and friend since the age of 12, Dorothy Del Guercio.
Visitation will be held at The Bailey Funeral Home in Mendham, 8 Hilltop Rd. Mendham, NJ on Friday, September 17th between 12:00 p.m. and 4:00 p.m. Memorial donations can be made in memory of Ernest to St. Jude Children's Research Hospital, 501 St. Jude Place, Memphis, TN 38105.