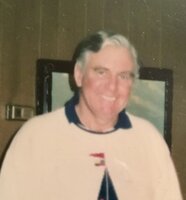 Howard Wilson
Howard Wilson passed away with his loving family by his side on September 7, 2021. He was 93 years old. Born in Jersey City, NJ, to parents James and Florence (Harris) Wilson, Howard served his country as an Officer in the United States Navy until his retirement. He moved to Randolph, NJ, with his family and has been a resident for the past 29 years. He was a man of strong faith and was a parishioner of St. Joseph's Church in Mendham. He attended Seton Hall University and received his Bachelor's Degree from St. Peter's University and his Master's from Jersey City State University.
In addition to his Naval career, Howard held many positions, such as an F.B.I. Agent; Stockbroker; Vice President and Manager of Worldwide Security for Merrill Lynch; and Adjunct Professor teaching Ethics in college. He was an incredible athlete and enjoyed tennis, racket ball, paddleball, sailing, skiing and swimming. He was an avid reader and had a quick wit. He was always willing to lend a hand to anyone who needed assistance. He loved his family deeply and will be forever missed.
Howard was predeceased by his daughter, Anne-Marie Van Dunk. He is survived by his best friend and wife, Delia Wilson, daughters - Pamela Wilson, Julie Christopher, and Jaclyn Foley (son-in-law Raymond Foley); son James Wilson (daughter-in-law Isla Wilson); son-in-law Burgess Van Dunk, and grandchildren William Linde, Katharine Christopher, Ryan Foley (fiancée Cait Fallon), Liane Scerbo (grandson-in-law James Scerbo), and Zachary Wilson.
A Memorial Mass will be held on September 15, at 10:30 a.m., at St. Joseph's Church, W. Main St, Mendham NJ 07945. Interment will take place immediately following at Hilltop Cemetery, Mendham. In lieu of flowers, donations in Howard's memory may be made to St. Jude's Children's Hospital, 501 Jude Place, Memphis TN 38105.
To attend mass virtually please click on the following link http://boxcast.tv/view/howard-wilson-memorial-servcie-k1sqwhteekaudwzqxwrh