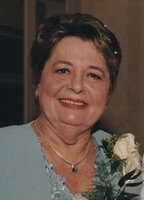 Mary Vilot
Mary Vilot passed away peacefully at Holly Manor Center in Mendham on August 30, 2021.
Mary was born December 14, 1931 in New York City (the same birthday she joyously shared each year with her younger brother Rick) to Mary (Michlik) and George Nemetz.
As a teenager, Mary's older brother Frank introduced her to the love of her life, Frank Vilot, whose family lived in the same apartment building on Cauldwell Avenue in the Bronx. A 1949 graduate of Walton High School, Mary worked as a legal secretary until her retirement in 1988.
While raising her family in Upper Saddle River, Mary was an active member of the Church of the Presentation and later at Saint Maximilian Kolbe Church in Toms River, where she also served as a Eucharistic Minister.
A voracious reader and avid crossword puzzler, Mary also enjoyed endless hours listening to Rush Limbaugh. Late in life, she also discovered a love for the electric piano.
Mary is survived by her children Michael Vilot (wife Gail Spera), Laura Glomb, John Vilot (wife Jennifer), Thomas Vilot; nephew Neil Nemetz (wife Alice); and many grand and great-grandchildren. She was predeceased by her husband Frank Vilot, her parents, and her brothers Frank and Rick Nemetz.
Visitation will be held at Bailey Funeral Home, 8 Hilltop Road, Mendham on Friday, September 3, 2021 from 5-7 pm. Funeral Mass will be held at St. Lawrence Church, 375 Main Street, Chester on Saturday, September 4, 2021 at 9:30 am followed by Interment at Maryrest Cemetery, Mahwah, NJ.