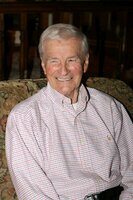 Emil J Hozeny
Emil J. Hozeny (affectionately called EJ) passed away peacefully surrounded by his loving family in his home on August 26, 2021. He was 86 years old.
Born in Perth Amboy, NJ, to parents Emil and Mary (Hudanich) Hozeny, Emil attended Rutgers University after enlisting to serve his country with the Army during the Korean War. In 1956 he married his childhood sweetheart, Fran. In 1964 he moved to Bridgewater, NJ with his family and has been a resident ever since. For many years he built his career as Executive Vice President of MH&W International.
Emil was a man of faith and was a parishioner of St. Brigid Church in Peapack, NJ. He was an avid reader of American history and loved his country. In his free time he enjoyed hunting and fishing, but most of all cherished time with his family. A doting grandfather, "Pop-Pop" was involved in most, if not all the events his grandsons had -- from sports games, band concerts, to pirate treasure hunts at the beach -- fishing and castle building -- they did it all together.
EJ is survived by his loving wife Fran of 64 years, son Mark (Misty) Hozeny, daughter Pamela (David) Brozek, brother Fred Hozeny (Marilyn) and grandsons Ryan and Brad Brozek.
In lieu of flowers, donations in Emil's name can be made to the American Cancer Society or St. Jude. A memorial mass will be held at St Brigid Church on Wednesday, September 8, 2021 at 10:30 am. Interment will be private.