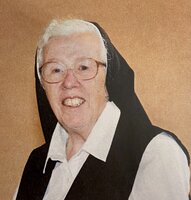 Sr. Charles Wilson
Sister Charles Wilson, nee Marie Yvonne Wilson, Sister of Christian Charity, entered eternal life on August 23, 2021 at the Motherhouse in Mendham, NJ at the age of 86.
Sister Charles was born in Baltimore, Maryland on July 19, 1935, to her loving parents Charles and Cecilia (Sparks) Wilson. Sister entered the Sisters of Christian Charity in Mendham, NJ. on September 5, 1954. On August 21, 1957, Sister professed her First Vows and on August 20, 1963, professed her Final Holy Vows.
Sister Charles was a cheerful and dedicated homemaker for many sisters in various convents including Kensington, NY, Danville, PA, Williamsport, PA, Wilkes-Barre, PA, Luzerne, PA, and Mendham, NJ. Sister Charles worked tirelessly at cleaning and cooking for the sisters. Throughout her busy days Sister always found time to shop for other sisters, distribute food to the poor, and for a brief time teach a Religious Education class. She had the great joy of participating in a Spiritual Renewal Program in Rome and Germany in the summer of 2002. Sister Charles retired to Holy Family Convent in Danville, PA in August of 2013. In 2018 the Sisters in retirement moved to Mendham, NJ, where she remained until the present.
Sister Charles is survived by her sister, Regina Busch, of Florida, her nephew, Stephen Wilson of Texas and her niece, Stephanie Ordakowski of Maryland. Sister was pre-deceased by her brother Frank (wife, Barbara) of Hampstead, MD, and her sister, Jean (husband, Linn) of Haines City, FL.
A private Liturgy of Christian Burial will be celebrated at the Motherhouse on August 26 at 11:00 AM with the interment to follow in the Motherhouse cemetery.
Memorial donations can be made in memory of Sister Charles to the Sisters of Christian Charity 350 Bernardsville Rd, Mendham, NJ 07945.