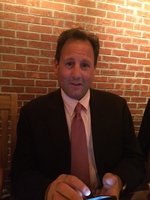 Michael J Fabrizio
Michael J. Fabrizio passed away suddenly on June 15, 2021. He was 55 years old. He was born on September 14, 1965, in Orange, New Jersey, and grew up in Maplewood. After high school, Michael went on to attend Seton Hall University where he met and married his wife in 1993. They settled in Mendham, and were blessed with triplets.
Michael served as the Executive Director of the Morristown Parking Authority, and previously as the Executive Director of the Morristown Partnership. He leaves a legacy as an expert in economic downtown redevelopment, and is responsible for laying the foundation for the revitalizing of Morristown among other municipalities throughout the state. He was well respected by colleagues and community members alike. Above all, Michael was a family man, and will be remembered for making his children his number one priority. He cherished every moment he spent with them, especially relaxing at the beach and fishing.
Michael is predeceased by his mother, Frieda (Coppola) Fabrizio, and is survived by his loving wife of 28 years, Lisa DeRosa Fabrizio, children Gabriella, Zachary, and Matthew Fabrizio, brothers Ralph Fabrizio of El Cerrito, CA, Dr. Lawrence Fabrizio of Chester, NJ and sisters Mary Lynn Wallington of Ranson, WV, Carrie Steinbauer of Maplewood, NJ, Lois Corcoran of Maplewood, NJ, and many loving nieces and nephews.
Visitation will be held on Monday, June 21, from 3-7 PM at the Bailey Funeral Home, 8 Hilltop Rd, Mendham NJ 07945. A Funeral Mass will be celebrated on Tuesday, June 22, at 10:30 AM at St. Joseph Church, W. Main St, Mendham. In lieu of flowers, donations in Michael's memory may be made to the Pulmonary Hypertension Association and Scleroderma Foundation.