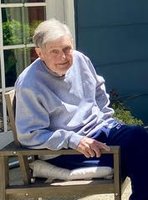 Jeremiah Joseph O'Connell
Jeremiah Joseph O'Connell
June 30, 1931 -May 30, 2021
What makes this man?
Jane and Robert, two immigrant parents leave an Irish homeland to have a son and daughter in the brick and concrete streets that Liberty lights her torch for. He would grow among the proud Bronx neighbors who leaned-out windows straining necks to witness those on their way to a Sunday Communion.
Like many a man he would go to service, and wear that uniform to find a beautiful wife. Her name was Barbara and they set out to find suburban green, in which to fill with cribs and red cheeked babies. He worked hard as may men do, to mow lawns and cut hedges and watch trees grow the way children do. There were five in the end, all with different complexions, taught to be proud. Taught to recite ballads in warm Aran sweaters. To remember the home of his father and mother. To wear their name as if was a badge.
He rarely slept a night through. Instead, it was the daytime in which he dreamed.
He dreamt about, red retrievers, peat fires, good whiskey, unpainted molding, and a rock garden in which to sit.
He dreamt of his children's life and their children too.
But most of all he dreamt of his wife, who left him alone all too soon.
"Had I the heavens' embroidered cloths,
Enwrought with golden and silver light,
The blue and the dim and the dark cloths
Of night and light and the half-light,
I would spread the cloths under your feet:
But I, being poor, have only my dreams;
I have spread my dreams under your feet;
Tread softly because you tread on my dreams. "
W. B. Yeats
This is what made this man. Jeremiah Joseph O'Connell passed away surrounded by his loving family at his daughter's home on May 30, 2021, at the age of 89 years old.