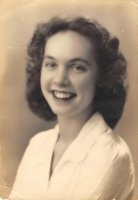 Frances Ryder Hobbie
After 96 years of life lived to the fullest, Frances Ryder Hobbie passed away peacefully and surrounded with love on May 26, 2021.
Born in West Chester, PA, on March 9, 1925, Fran was the second of the four children of Herbert Kenneth and Kathryn Vought Ryder. After the upheavals of the Depression, the family settled in Scarsdale, NY. Fran graduated from Scarsdale High in 1942, distinguishing herself as a French horn player, writer and illustrator of stories, and softball player affectionately known as Slugger Ryder.
At New Jersey College for Women (now Douglass College), Fran earned a bachelor's degree in child psychology. There she met William F. Hobbie, an ex-Marine enrolled at Rutgers University on the GI Bill. Fran and Bill were married in 1946 and proceeded to raise their four daughters while restoring a succession of homes. There was always a garden involved, and Fran stocked the pantry with home-canned fruit and vegetables. While the family lived briefly in Kent, CT and Boonville, MO, as Bill developed his career as a fundraising consultant, Fran's heart belonged to Hunterdon County, NJ, where she spent most of her adult life.
Fran instilled in her daughters a love of reading, writing, drawing and making music. This commitment to education expanded beyond her immediate family in the early 1960s, when she opened a nursery school. From there, Fran went on to teach third grade and remedial reading. She became a learning disabilities teacher-consultant in three New Jersey school districts, earning her master's from Rutgers Graduate School of Education in 1971. In 1976, at the age of 50, she was awarded an Ed.D. from that institution.
Fran's doctoral research and much of her professional work focused on innovative approaches to assessing children's individual learning capacities and creating curricula to help them succeed, especially those who were struggling.
After she retired from an 18-year public school career, she served as an adjunct professor at Rutgers; Raritan Valley Community College; and Seton Hall University. Beginning in 1992, she spent 20 years in Hunterdon Medical Center's Department of Child Evaluation and Treatment. The group evaluated and assisted children, teens and young adults with learning challenges.
A prolific writer all her life, Fran had articles and essays published in The Educational Forum and The New York Times.
Fran was a spiritual seeker who believed we are here not only to do, but, more essentially, to be. Raised Baptist, she participated in Presbyterian, Congregational and Unitarian faith communities while continuously evolving her own set of spiritual beliefs. Late in life, she was energized by forming a group of "Spirit Sisters" with whom she discussed these beliefs and also practiced weekly meditation.
Fran's affection for and genuine interest in people extended across all walks of life and applied especially to children. As Bill once put it, "She had an endless capacity to be the immediate friend of any little kid who came within 10 feet of her."
Fran is survived by her brother, Herbert Kenneth Ryder; her four deeply grateful daughters: Kathryn Hobbie, Christine Hobbie, Prudence Cuper and Lucille Corvino and their respective partners, in addition to numerous grandchildren and great-grandchildren. She was predeceased by her husband, Bill, in 2012.
A celebration of life will be held at a later date. Arrangements are by the Bailey Funeral Home of Peapack. The family invites memorial donations to any charity promoting educational access, women's empowerment and/or gay rights.