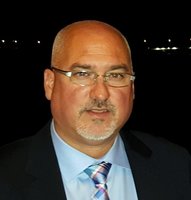 Gregory P Wright
Gregory P. Wright passed away on May 16, 2021. He was 54 years old.
Gregory is survived by his high school sweetheart and beloved wife of 30 years, Tina Wright, son Luke Wright, daughter Gabrielle Wright, his father George Wright, his mother, Monica (Ciurciu) Wright, sisters Doreen (Gordon) Calder and Sharon Wright, and countless nieces, nephews, and friends.
Born and raised in Westwood, Gregory lived in West Orange before settling in Randolph with his family 16 years ago. He was a devout Catholic and a parishioner of St. Matthew the Apostle Church in Randolph.
An industrious and driven man, Gregory worked hard in every aspect of his life. Starting and maintaining two successful businesses, along with a number of other endeavors, he did everything in his power to provide a fortunate life for his family. When not bouncing back and forth from the office to the work site, you could find him in a hunting stand, on a boat casting a line, or hitting balls on the golf course. However, his favorite thing to do was spend time with his large and loving family. Hosting grand holidays with elaborate menus, even more wine, and a larger-than-life voice, he provided treasured memories to last a lifetime.
Visitation will be held on Thursday, May 20, from 3-8 PM at the Bailey Funeral Home, 8 Hilltop Rd, Mendham NJ. A Funeral Mass will take place on Friday, May 21, at 10:30 AM at St. Matthew the Apostle Church, 335 Dover Chester Rd, Randolph NJ 07869.
Due to the current health crisis we kindly ask that you pay your respects and be mindful of the time to give others an opportunity to do the same.

Face coverings required. Thank you