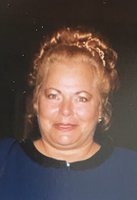 Barbara High
Barbara Payla High, of Manahawkin, NJ, passed away on May 7, 2021 at Atlantic City Medical Center after a valiant battle with cancer.
Born in Manhattan, NY, in 1943, Barbara grew up in Verona, NJ, and graduated from Verona High School.
Barbara was a jewelry designer, who loved making crafts and selling jewelry at gems and mineral shows. She is the former owner of Bobbi's Collectibles in Parsippany, NJ. Barbara loved her family, crafts, animals as well as the beach.

She was predeceased by her husband, John High, in 1992.
She is survived by her 3 children: Sally Chafatelli, Michael Flammer, & Ronald Flammer;
Sally's 3 children: David (predeceased in 2005), Charlene, & Michelle; Michael's wife, Cindy, & their 3 children: Jacqueline, Shannon & Mackenzie; Ronnie's wife, Susan, & their 2 children: Ryan & Devon; and 8 great grandchildren. She was a dear friend to June & Ron Ordas.
Funeral services will be private. In lieu of flowers, donations to, the American Cancer Society, St. Jude's Children's Hospital or Ocean Community Church Food Bank 1493 Route 72 West Manahawkin, NJ 08050, in her memory, would be appreciated.