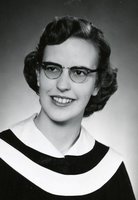 Joyce E Zelmer
Joyce Evelyn Zelmer was born on January 4, 1933 in High River, Alberta, Canada, one of nine children, of Adam and Martha Zelmer (Ulmer). While in school, Joyce sang in the United Church Choir, played the organ for Church Services as an alternate organist, sang in the Music Maker's Club and was the pianist for Pickersgill's Dance Band. Joyce graduated from High River High School with the highest average ever attained at her school on Provincial exams, a record that she held until a few years ago.
After high school, Joyce worked as a secretary for the law firm Burnett, Heseltine & McNeill, but then wanting to further her education, she interned at Charlie Laycraft's Drugstore; internship being a requirement for entrance to the degree program in Pharmacy. She also worked at Dunford Drugs in Calgary. While Joyce attended the University of Alberta, she was a member of the Pi Beta Phi Fraternity and served one year as Warden of the Frat House. She received her BSc in Pharmacy in 1956 and later went back to University to get her Master's Degree in Pharmacy where she researched the effect of drugs on respiration of liver of normal and cirrhotic rats. After this, she departed to the United States accepting an appointment as Assistant Research Pharmacist in product development at Parke Davis Company (Detroit) where she was part of the team that created Benadryl. Warner Lambert (New Jersey) bought out Parke Davis and Joyce accepted a position as Associate Research Pharmacist. At the 50th Anniversary of the University of Alberta, Joyce was honored for her contributions to Research.
In Morristown, Joyce was active in the Presbyterian Church where she sang in the church choir and later in the Bell's choir. Joyce served as a Deacon and she helped to establish the Church Library. In addition, she volunteered at the Brookside Library until ill health interfered. After a prolonged illness, Joyce passed away in Hospice after a short stay in the Morristown Hospital. She is survived by her sister, Phyllis Pope and fifteen nieces and nephews. Her ashes will be interred in the High River Cemetery. The family extends their heartfelt thanks to the medical staff at the Morristown Medical Center (Hospital and Hospice) for their care and compassion during Joyce's final days. Her ashes will be interred in the High River Cemetery.