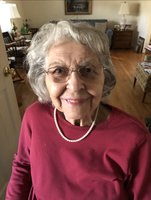 Rosemarie "Ricki" Stochaj
Ricki Stochaj, 88, who lived most of her life in Berkeley Heights before moving to The Chelsea in Warren, passed away on April 17, 2021. She was born in Newark, NJ. While at Douglas College she met the love of her life John M. Stochaj who was attending Graduate School at Rutgers University. They were married for 57 years before his death in 2013. She leaves behind her son, Steven J. Stochaj, and daughter-in-law, Nancy Chanover, of Las Cruces, NM, and her daughter, Loreli E. Stochaj, and daughter in-law Christina Carswell of Bridgewater, NJ. A celebration of her life will be held at a future date.
Ricki had many roles in her life: wife and mother were the two she loved best. She taught Junior High School and High School before her children were born. After her daughter's birth, she started volunteering. Her early volunteer work included the League of Women Voters, social concerns at her church, and public affairs at the former YWCA in Summit. She volunteered extensively with the Consumers League of New Jersey and served as the President, Treasurer, legislative agent and worked on policy development. Ricki also ran The Energy Information Line for the State of New Jersey during the energy crisis in the late 1970's through the 1980's.. After this she taught technical writing to employees at Bell Labs. Her other interests included creating meals using multiple recipes at the same time, crafting with friends, and knitting sweaters.
A gathering to celebrate the life of Ricki Stochaj will take place on Sunday, May 23, 2021 from 2-4 pm at the home of Loreli and Chris 1632 Southbrook Dr. Bridgewater.
Despite a lifelong interest and commitment to a variety of social causes, the most optimistic and rewarding experience she had was working with The Seeing Eye and its puppy raisers. She was happiest raising puppies for The Seeing Eye, with her husband and daughter. Donations may be made in her honor to The Seeing Eye www.seeingeye.org