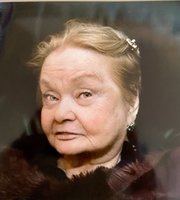 Nell Long
Nell Long, a loving Christian woman, full of selfless devotion to her faith, family and friends, passed away on Thursday, April 8th, 2021. She was 90 years old.
Nell is predeceased by her daughter, Tammy Coleman of Savannah, GA, and is survived by her husband of 60 years, Charles (Pete) Long of Flanders, NJ, daughter Renee Kitani of Virginia, granddaughter Cristin Badal (Brad) of Mendham, NJ, grandson Shannon Long of Savannah, GA, granddaughter Brittney Coleman of Savannah, GA, adopted granddaughter Farrah Glisson of Hoboken, NJ, and three great grandchildren.
Nell lived most of her adult life in Savannah, GA, until she and her husband moved to Flanders, NJ, nine years ago to be with her daughter and granddaughter.
Visitation will be held Monday, April 12, from 5-7 PM at Bailey Funeral Home in Mendham, NJ. Entombment will take place in Savannah, GA.