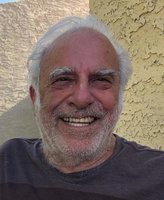 Anthony Colella
Anthony Joseph Colella (Tony) passed away on Sunday February 14th 2021 in the state of Arizona due to complications brought on by dementia. Tony was 85 years old.
Tony was a loving husband to his wife Sally and a devoted father to his two children, Jeffrey and Cheryl. He was an accomplished self-employed mason contractor and builder. He enjoyed his work, especially building custom and spec houses. Tony was an avid skier and loved to travel to new locations whenever he could to try out the slopes. He loved to take long walks around his neighborhood in the evenings, and always had a big smile on his face.
Tony and his wife Sally were active members of the Jaycees in Basking Ridge NJ and loved being around friends and family whenever they could.
Tony and Sally relocated to Arizona after his retirement to better accommodate Sally's health issues. He was predeceased by his wife Sally Ann Colella.
In late 2002, he met Susan Benedict whom he later married, and for 18 years they lived in Sun Lakes AZ, and then Scottsdale, in a home that he enjoyed immensely. It was in that home that Susan cared for Tony, particularly during the latter stage of his illness. A day wouldn't go by without a big smile for Susan, showing his ultimate optimism and good nature that will be sorely missed.
Tony is survived by his son, Dr. Jeffrey Colella and Jeff's wife Karyn of Chandler Arizona, and by his daughter Cheryl Raymond and her husband Bob of Washington NJ as well as four grandchildren, Jordan, Jansen and his wife Ella, Michael, and Renae. He is also survived by his second wife, Susan Colella, and by his brother Ronnie and his sister Gloria.
A graveside service will be held on Friday, April 9, 2021 at Hilltop Cemetery, Mendham, NJ.